Prince William opens James' Place suicide crisis centre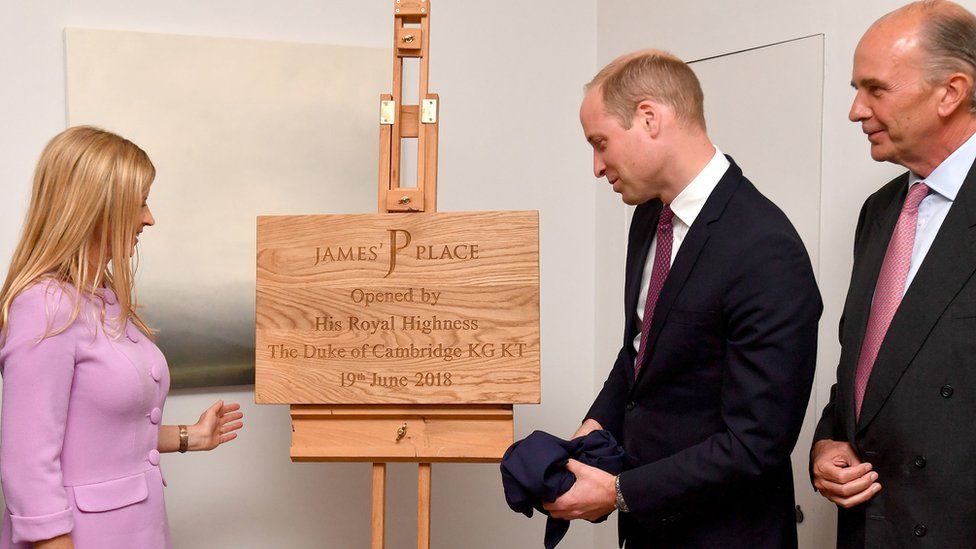 The Duke of Cambridge met the mother of a young man who took his own life as he opened a new suicide therapy centre.
James' Place in Liverpool is the UK's first centre outside of a clinic or hospital for helping suicidal men by giving counselling and therapy.
It was set up by the parents of James Wentworth-Stanley, 21, who took his own life in 2006 while a student.
During his visit, Prince William said that suicide "really is quite a big problem, and we don't talk about it."
James' mother, Clare Milford Haven, thanked the duke for "bringing the subject out of the shadows" as he officially opened the centre.
James' Place, a four-storey town house in Liverpool's Georgian quarter, aims to address high male suicide rates by offering face-to-face therapeutic support for men in crisis.
Suicide is the greatest cause of death amongst young men aged 15 to 35 in the UK and is three times more common in men than women.
The duke heard that young and middle-aged men are especially at risk as they do not use conventional medical services, sometimes through stigma or a sense of shame.
Ms Milford Haven thanked the prince for coming and said "it means the world to us."
"Very much spurred on by our own tragedy and our own experience of James looking for help when he felt very anxious and suicidal in Newcastle, for him not finding that help, the help he needed anyway.
"I always felt, had a place like this existed, he might still be here today."
Prince William has been active in promoting campaigns that tackle the stigma surrounding mental health saying he was inspired by his late mother Diana.
In 2017, he, his wife the Duchess of Cambridge and his brother Prince Harry founded the Heads Together campaign to raise awareness of mental health issues.
Earlier, the duke visited the International Business Festival in Liverpool and talked with delegates and young entrepreneurs.
He was shown cutting-edge technologies, including 3D-printed robotic limbs produced by a team based at the University of Manchester.
Addressing delegates the duke said: "Britain has always been a champion of trade and a hub for commerce and exchange between our nations.
"There is perhaps nowhere in the country that embodies this more than Liverpool."
Related Internet Links
The BBC is not responsible for the content of external sites.