Arriva to run 'Uber-style' bus service in Liverpool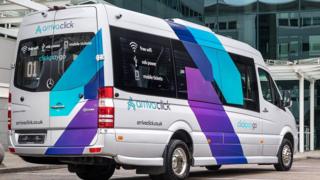 An Uber-style bus service is to begin operating in Liverpool allowing people to order a minibus via a mobile phone app.
Passengers who use the on-demand ArrivaClick service will determine the route by entering their chosen pick-up point and destination.
The technology will match people travelling in the same direction to the right vehicle, said the operator.
Arriva is working with Merseytravel to roll out the service this summer.
Kevin O'Connor, managing director of UK Bus Arriva, said the company had chosen the city to be the first in the UK to host its new, cashless bus service.
"Liverpool is a city that embraces new ideas, so it was the natural choice for us."
'More attractive'
ArrivaClick will launch with six minibuses this summer rising to 25 next year, creating up to 70 new driving jobs, said a spokesman.
The app will allow people to track their chosen vehicle, tell them the name of the driver and reserve a seat.
And with no fixed routes, journeys are determined by where passengers want to go within an area running from the city centre to Liverpool John Lennon Airport.
Sharing journeys also has the advantage of helping to reduce air pollution and congestion in urban areas, he added.
Matt Goggins, Head of Bus at Merseytravel, welcomed Arriva's decision to launch the innovative service in Liverpool.
"One of Merseytravel's main aims is to make sustainable journeys a more attractive choice for people in the Liverpool City Region, particularly when accessing things like training, education and employment.
"By providing a new way to use public transport, ArrivaClick really supports that vision."
Arriva said that when the same technology was piloted in Kent, more than half its passengers had switched from private cars with 43% using it for their daily commute.