Family left woman to die in 'disgusting' house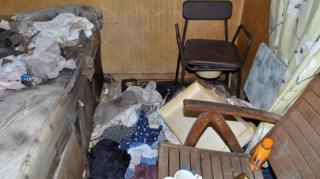 A woman who was supposed to be cared for by her daughter and ex-husband was left to die in "disgusting conditions", a court heard.
Disabled Catherine Purcell, 68, was found dead with her body infested with maggots at the Kirkby home she shared with her 35-year-old daughter, also called Catherine Purcell, police said.
John Purcell, 71, also of Kirkby, and their daughter denied wilful neglect but were convicted after a trial.
They were given suspended sentences.
Det Insp Kevin Plunkett, of Merseyside Police, said Mrs Purcell died from pneumonia, dehydration and severe skin ulcers.
He added her daughter and ex-husband failed to seek medical help "she so clearly needed".
He said it was a "truly horrible case" and the house where Mrs Purcell died was "one of the worst I, and other experienced officers, had ever seen".
Police believe Mrs Purcell's body was moved after she died to a "smaller, cleaner bedroom".
He said: "The situation was made worse by the fact that both Mrs Purcell's daughter, who was her official carer, and her estranged husband, who assisted with her daily care, continued to deny responsibility, even after her death, and the case had to go to trial."
At Liverpool Crown Court, Mr Purcell, of Quarry Green, was sentenced to 18 months in jail, suspended for two years.
He was also ordered to carry out 10 days of rehabilitation work and 270 hours of unpaid work and restrained by a curfew for three months.
Ms Purcell, of Shacklady Road, received a 12-month sentence but it was also suspended for two years.
She was also ordered to do 35 rehabilitation days and 35 days of unpaid work.