Mersey Gateway Bridge tolls will not be repaid, council says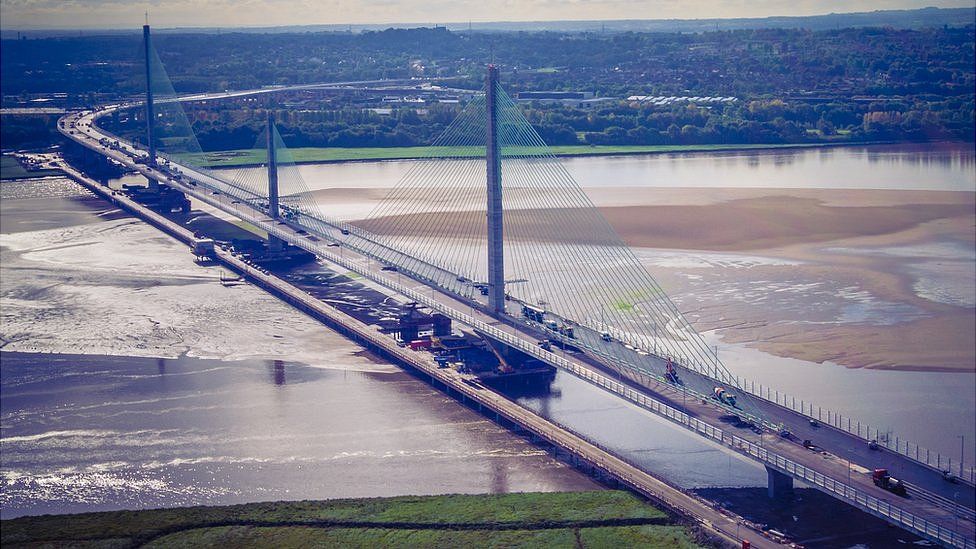 A council has said controversial toll payments and fines for crossing the Mersey Gateway Bridge will not be repaid, despite a legal ruling which declared the fees "illegal".
However, in a test case, the Traffic Penalty Tribunal found a driver was not liable to pay because Halton Council had not correctly advertised the fee.
The council has disputed this, and said it was not obliged to repay motorists.
A spokeswoman said: "Any suggestion that the council has no power to charge or enforce tolls or that the council is acting 'illegally' is misleading, inaccurate and wrong in law."
She said this was because the tribunal's ruling "does not have general effect" and could not "remove the obligation to pay".
The Scrap Mersey Tolls campaign group described the council's position as "scandalous".
A spokesman said: "We will be contacting other interested parties with a view to taking court action against the council."
The £600m bridge, which became the second crossing between Runcorn and Widnes, is the largest infrastructure project in England outside London.
More than 10 million vehicles have crossed the bridge and, as well as the tolls, about 250,000 penalty charge notices have been issued for failing to pay, according to the council.
The bridge's operators estimated £1m of fines had been issued in the first month.
The government said tolls would be scrapped once the cost of the bridge's creation was met, but campaigners believe the tolls are an unfair charge on local residents and businesses.
Adam Snow, an expert in road traffic law at Liverpool John Moores University, said: "The council's position is correct as a matter of law, but it isn't a 'fair' position to hold.
"What motorists have got is a right to judicial review and take the council to the high court. The problem is that could cost £50,000, which you're not going to do for a £2 charge."
The council previously said it was updating its procedures to make the charges clearer.
Analysis: Claire Hamilton, BBC political reporter
Today's decision will be a huge disappointment to potentially thousands of motorists.
Many hoped the tribunal ruling would mean the council would have to waive or repay fines, and even reimburse tolls that had been paid during the first six months since the bridge opened.
However, it is clear the council won't be moved from its position.
It might still face more costly legal action from motorists and campaigners who've seen the whole tolling system as deeply unfair from the start.
Related Internet Links
The BBC is not responsible for the content of external sites.