Liverpool councillor offered to take insult row 'outside'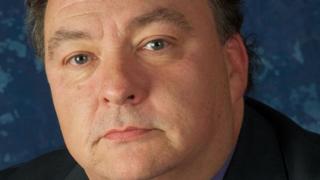 A row between two Liverpool councillors threatened to turn violent amid divisions on Brexit and the future of the city's mayor at a party meeting.
Tempers frayed when councillor Peter Brennan called Labour colleague Peter Mitchell a "rat" on Monday.
Mr Mitchell said he regretted "offering to continue the conversation outside" before the pair were separated.
The confrontation came ahead of a meeting where the city's Labour Mayor Joe Anderson will face three key votes.
Mr Anderson is backing two Labour motions calling for a further referendum on Brexit and an endorsement of the council's decision to spend £200m on fixing potholes.
He also faces an opposition motion calling for the abolition of the position of directly elected mayor.
Response 'wasn't particularly adult'
Mr Mitchell said his dispute with Mr Brennan erupted at a group meeting when he refused to support the motion welcoming the spending on road repairs in its current form, because he wanted to know more about how the £308m cost of paying the money back over 25 years would be met.
"We did have words and people came between us," he said.
"I'm bang to rights and I offered to continue the conversation outside.
"I wasn't particularly adult in my response and I accept that."
Mr Mitchell said it was "too simplistic" to say the party was split along lines that had left factions "pro or anti Joe Anderson".
But he acknowledged divisions among Labour members on Brexit, as well as the pothole spending proposals.
The BBC has approached Mr Brennan for a comment.
The council's Liberal Democrat leader Richard Kemp said Labour members were split on his party's motion about getting rid of the mayor's role, but he believed they would mostly vote in line with Labour whips on Wednesday.
"I heard from some very angry Labour members on Monday," said Mr Kemp.
"I wouldn't be surprised if there were votes against the whip or abstentions from voting on any of the three key motions."
Labour holds a large majority on the council, with 76 councillors of a possible 90 being party members.
In May, two councillors resigned from Mr Anderson's cabinet over the sacking of assistant mayor Nick Small.
Following his departure, Mr Small called for a review of how the council is governed.