Liverpool City Councillors vote to keep 'spare mayor'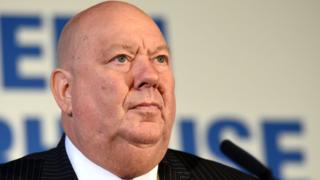 Liverpool's Liberal Democrats have failed in their bid to rid the city of its "spare" mayor.
The opposition group's motion questioned if an elected Mayor was the most effective way to govern the city.
The Lib Dems argued the role should be scrapped following the election of Steve Rotheram as Metro Mayor in 2017.
Labour defeated Wednesday's motion, with one councillor arguing Liverpool also had two football teams and two cathedrals.
Lib Dem leader Richard Kemp argued there was now a "spare mayor" and the promised benefits of having a city mayor had not been realised since the role was introduced in 2012.
Councillor Kemp told the meeting: "Yes, good things have happened, but there is no proof that having an elected mayor brought those things about."
'Absolute nonsense'
He argued that no other core region has two mayors with the same city name in their title.
Labour Deputy Mayor Wendy Simon defended current mayor Joe Anderson's record.
She branded Wednesday's meeting, called by the Lib Dems, "farcical", pointing out that the group has just seven councillors compared with Labour's 76.
Councillor Ann Rothery added: "We've got two football teams and two cathedrals, why not have two mayors?"
Labour councillors, including Nick Small, who has called for a governance review previously, accused the Lib Dems of political point scoring.
After the meeting, Mayor Anderson said he did not think people on the doorstep cared about the governance model of the council and it was "absolute nonsense" to talk about a spare mayor.
"We've built 14 new schools and invested in three others, we've created a mayoral development zone," he said.
"Despite the Lib Dems playing politics, the mayoral deal has brought huge investment into the city".
Councillor Kemp said he was not surprised at losing the vote, but claimed there was a move in the Labour Party away from the mayoral model, and several Labour councillors left before the vote.