Liverpool landlady jailed for harassing tenant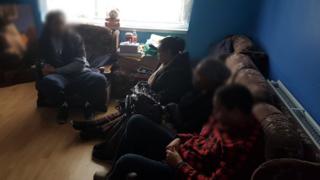 A landlady who tried to harass a "vulnerable elderly" tenant into leaving his home has been jailed.
Violet Musoke, 61, tried to force Dennis Adderley, 79, to leave his home of 34 years on Picton Road, Wavertree.
Musoke and her relatives entered Mr Adderley's flat in November and only left when threatened with arrest.
Jailing her for three months at Liverpool Magistrates' Court, District Judge Andrew Shaw described her harassment was "heartless and selfish".
Musoke also admitted failing to tackle hazards of damp and mould at the flat and update the electricity supply when Mr Adderley, who had a tracheotomy after suffering from cancer, relies on medical equipment which needs a stable power supply.
Mr Adderley has a protected tenancy and can only be forced to move with a court order.
The court heard Musoke and members of her family entered the flat with mattresses and chairs and refused to leave.
Mr Adderley's family say he wants to stay in the flat because he has lived there for 30 years and brought up his children there.
Musoke's defence said she was an "unsophisticated" woman who was ignorant of her responsibilities as a landlord after she inherited the property from her late husband.
The judge also ordered her to pay £500 compensation to Mr Adderley.
Liverpool City Council said the prosecution against Musoke was the first case of its kind it had brought.
It will now carry out the necessary repairs and bill her for the work as well as review her landlord licence.
Deputy Mayor of Liverpool Lynnie Hinnigan said: "This is a shocking case in which the landlord attempted to intimidate a vulnerable elderly man into leaving their property which had been their family home for decades."