Liverpool Biennial 'dismayed' after dead refugees and migrants list removal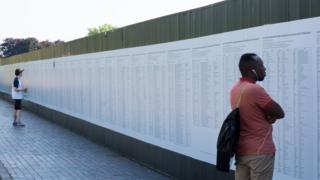 The makers of a public display paying tribute to dead refugees and migrants are "dismayed" over its sudden removal.
'The List' documents all 34,361 asylum seekers, refugees and migrants known to have died in Europe since 1993.
Erected on 14 July in Great George Street, Liverpool, it was torn down in mysterious circumstances at some point on Saturday night.
Liverpool Biennial, the arts event behind the project, has appealed for information from the public.
Director Sally Tallant said: "We were dismayed to see it had been removed on Saturday night and would like to know why.
"It is timely and important to make The List public during a global refugee crisis.
"The List has been met with critical acclaim and we are doing everything we can to reinstate it, once we better understand why it has been removed."
The List's removal has not been reported to the police.
It will be reinstalled in full early next week, Liverpool Biennial said.
The name of those who have died are compiled and updated each year by UNITED for Intercultural Action - an anti-discrimination network of 550 organisations in 48 countries.
The List project was a collaboration between UNITED and Turkish artist Banu Cennetoğlu.
She has translated versions of The List using public spaces such as billboards, transport networks and newspapers since 2007.
Liverpool Biennial commissions international artists to make and present work about the city and is a celebration of contemporary art which takes in public spaces, galleries, museums and online.