Calderstones Park: Liverpool Council urged to scrap homes plan
By Claire Hamilton
Political reporter, BBC Radio Merseyside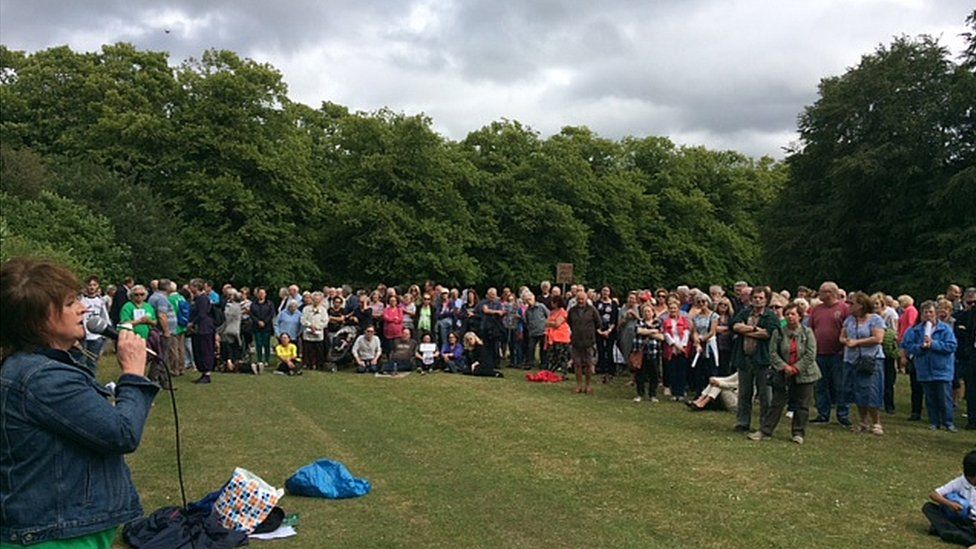 Liverpool's opposition councillors have called for a special meeting to halt plans to build 51 luxury homes on land near one of the city's largest parks.
More than 23,000 people have signed a petition urging the scrapping of the scheme on the Harthill Estate.
Redrow Homes received planning approval in February 2017, but campaigners argue the land is part of Calderstones Park and should not be developed.
The council has maintained that the land is not accessible to the public.
The land currently houses a riding school, an activity centre, a model railway and former council depot.
The city's Liberal Democrats said 90% of local residents oppose the plan and have written to the city's Lord Mayor, Christine Banks, with a request for an extraordinary general meeting and a motion asking that the council withdraws the sale of the land to the developers.
The motion stated Riverside Labour Party and other Labour councillors "have now joined the Liberal Democrat and Green Parties to oppose this move", adding that the sale would "adversely" affect Liverpool's environment and had "no financial advantages".
A council spokesman said the application for the meeting would be processed through the "usual channels".
The city's mayor, Labour's Joe Anderson has previously argued the homes planned for the site will bring in high council tax receipts and better facilities for the organisations which currently use it.
However, former Deputy Mayor Ann O'Byrne tweeted that the scheme was "no longer needed".
A judicial review into the planning decision will be heard in Manchester on 5 November.
Related Internet Links
The BBC is not responsible for the content of external sites.