Vauxhall's Ellesmere Port plant offered cut price power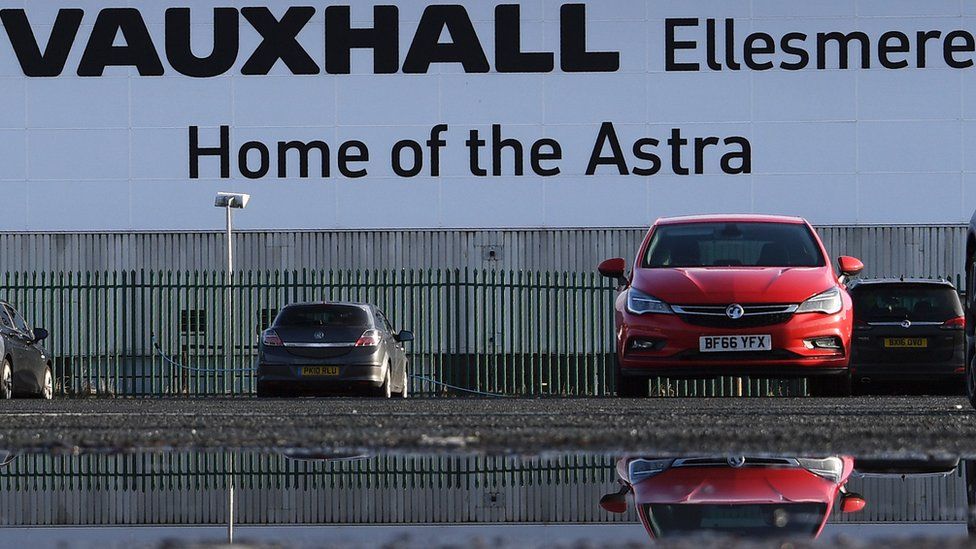 Discussions have been held to secure the future of Vauxhall's Ellesmere Port plant by cutting its electricity bills.
Connecting the site to a new local power network "could halve the cost of electricity", the chief executive of Cheshire's Local Enterprise Partnership (LEP) Philip Cox said.
The LEP has discussed the plan with Vauxhall and government officials.
Vauxhall said cheaper electricity would "ensure that the plant can be competitive."
The network, called the Cheshire Energy Innovation District, would transmit power generated locally along existing pylons to businesses and homes.
Ged Barlow from the Energy Innovation District said the network would be a "standalone area discrete from the National Grid".
"That would allow us to offer cheaper low carbon energy to major manufacturers in the area."
"Having low carbon generation which is close to where it's used means the distribution cost is less", he added.
Mr Cox told a meeting of the LEP that he had discussed the new network with Vauxhall and officials from the Department for Business, Energy and Industrial Strategy.
"Initial studies suggest (the network) could halve the costs of electricity at the plant and more widely in Ellesmere Port," he said.
"We are currently waiting for Vauxhall to indicate how they want to take this forward."
A spokesperson for Vauxhall owners Groupe PSA said: "In order to secure future investment it is essential for our Ellesmere Port plant to reduce costs".
"Our plants are benchmarked against other Groupe PSA plants and part of this work highlights the uncompetitive elements of manufacturing in the UK, with energy costs for example being almost double in the UK compared to France."