Alfie Evans parents 'feared' they would resent new baby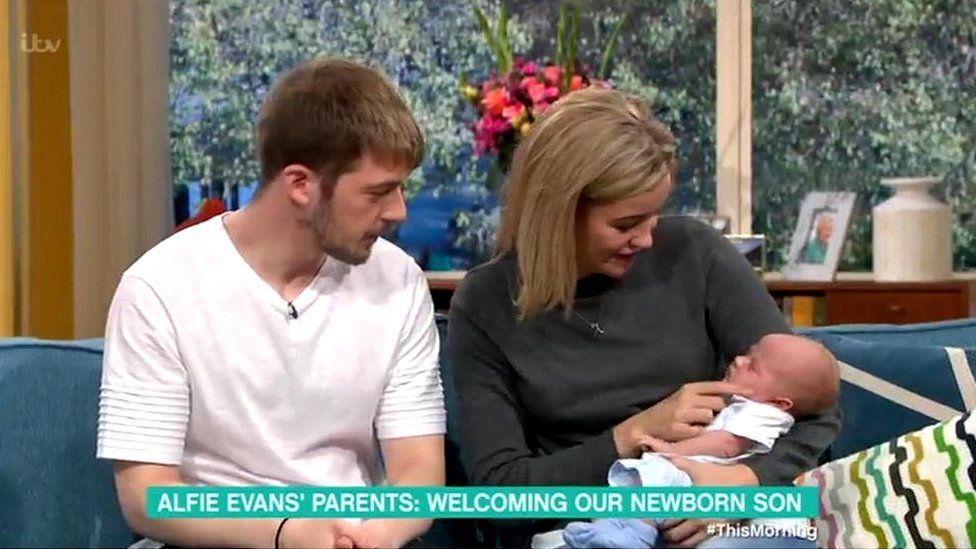 The parents of a 23-month-old baby who was at the centre of a high court legal battle over turning off his life support have had a second child.
Kate James and Tom Evans, whose son Alfie died at Alder Hey Hospital in Liverpool in April, revealed their four-week-old son on television.
The couple told ITV's This Morning they had to wait four days to see if baby Thomas had the same condition as Alfie.
Their fight to prolong Alfie's life was backed by the Pope.
Ms James said she learned she was expecting the baby while the couple were waging a legal campaign to stop treatment being withdrawn from Alfie, who had a rare degenerative condition.
"When I first heard I was expecting I was scared," she said.
She added: "We were scared about how we would react to this baby. I was scared I would resent the baby because he is not Alfie but it hasn't been like that he is amazing - he is like Alfie's double."
The couple, from Merseyside, revealed they were told in June that Alfie had the extremely rare brain condition GABA-transaminase deficiency and that there was a one in four chance any future children they conceived might have this disease.
They said it was caused by a faulty gene from each parent.
Ms James said they were told only 10 children in the world had been diagnosed with the disease and half of those had died.
Mr Evans said the couple spent four days waiting for test results were "the most nerve-wracking". The tests have proved negative.
Ms James added the baby's birth was "bitter sweet".
Earlier this year the Supreme Court ruled after a prolonged legal battle that doctors al Alder Hey could withdraw life support from Alfie.
At one stage Mr Evans met the Pope with a Vatican-owned hospital offering to care for Alfie in Rome when the campaign to save him became global.