Liverpool Catholic procession draws 10,000 people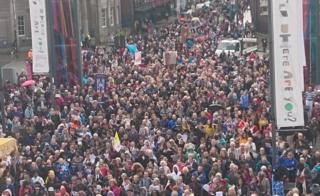 About 10,000 people have gathered in Liverpool for the largest Catholic procession in the UK since the late Pope John Paul II's visit in 1982.
They were attending the first National Eucharistic Congress in the country since 1908.
Cardinal Vincent Nichols said the procession was undertaken in a spirit of "prayer and penance" following recent clerical child abuse scandals.
"There is not one iota of pride or triumphalism in our steps."
The congress celebrated the central Catholic belief that Jesus Christ is made present in bread and wine at Mass services.
Thousands of people also walked in the centuries-old tradition of the Blessed Sacrament procession.
Cardinal Nichols, from Crosby in Merseyside, said: "In many ways, ours is a penitential procession for we are focused on Jesus Christ, who we have crucified."
He said the event came at a time when he "sensed anger in many hearts" in the wake of Catholic Church scandals concerning abuse and mistreatment along with the cover-ups of sex crimes.
"Today I come as a beggar seeking forgiveness laying the load, hurt, damage and mistrust we have caused at the foot of the cross."
The Catholic Church holds a Eucharistic Congress every three or four years in different countries.
In certain countries, such as Italy, they are held regularly in different dioceses.
This weekend's event "came about as an initiative of the Catholic Bishops of England and Wales", a spokesman for the Archdiocese of Liverpool said.
At the scene
Paul Burnell, BBC News
The last time so many Catholics came to Liverpool was when Pope John Paul II visited in 1982.
That day the sun shone but today the heavens opened just as the people left the cathedral.
Cardinal Vincent Nichols and Archbishop Malcolm McMahon of Liverpool said the procession needed prayer and penance in a reference to recent scandals.
The fervour of the multi-national congregation seemed to provide the former while the rain gave the latter.
Events were held on Friday and Saturday at the city's Echo Arena while hundreds also attended two Masses at the Metropolitan Cathedral.