Ex-Labour Liverpool councillor joins Lib Dems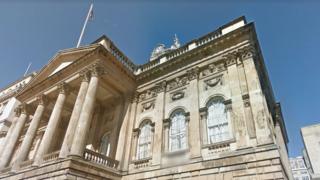 A councillor who quit the Labour Party in Liverpool after claiming she was bullied by a fellow politician has joined the city's Liberal Democrats.
Kay Davies had accused fellow ward councillor Gerard Woodhouse of having links to a Twitter account which had targeted her with online abuse.
Ms Davies said she was "sick of not being able to speak out" against the Labour-run council.
Labour said it was investigating but there were "two sides to the story".
Ms Davies has sat as an independent since leaving Labour in August.
She said she wants to spent her "time and energy" in "supporting and helping people in Liverpool".
A Labour group spokeswoman confirmed that Ms Davies was also being investigated by the national party.
She said: "Cllr Kay Davies had raised issues of concern within Liverpool Labour, some of which were dealt with by the Labour Group and others were being investigated by the National Labour Party.
"A great deal of effort was being spent trying to get a resolution, but unfortunately Cllr Davies chose to leave the party before the result of that investigation could be published."
Richard Kemp, leader of the Liberal Democrats in Liverpool, said he was "delighted" that Ms Davies' values "mirror up so closely" with the party.