Cheshire couple spend £12k for labrador's open heart surgery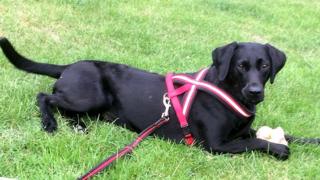 A couple spent £12,000 on a pioneering double-bypass heart operation for their pet labrador in a procedure never previously carried out on a dog.
Paul and Pauline Daley, from Cheshire, sacrificed money saved for their 20th wedding anniversary to save the life of 11-month-old Lottie.
The dog's rare heart defects had been described as a "ticking time-bomb".
Lottie is on course to make a full recovery after the operation led by Royal Veterinary College surgeons.
The college said the operation, on 30 July, was the first time it had carried out such a procedure on a dog.
Although other pets have had bypass surgery, the college said this particular operation involved two distinct sections of the heart and was a world first.
Surgeons even consulted paediatricians from Royal Brompton Hospital in London for advice on how similar operations were carried out on babies.
Mrs Daley, 59, from Malpas, said: "We're delighted. We won't be going on holiday to celebrate our wedding anniversary, but you can go on holiday any time.
"We were told Lottie could have died at any point."
The dog's heart abnormalities were revealed during routine tests before it was spayed.
A faulty heart valve meant a mix of oxygenated and non-oxygenated blood was circulating around the body, while there were further problems with the upper chamber of the heart.
Mrs Daley said: "We were devastated when we were told her condition was like a ticking time-bomb."
The four-hour operation was carried out by a team of 10 from the college.
Prof Dan Brockman, who led the operation, said it was "complex" but they were "desperate to try and help".
He added: "With careful pre-operative planning and using our previous experience, we were able to design and execute the surgical treatment."
He said it was "still early days" but the initial signs were positive and she is due for a check-up next week.
Mrs Daley and her husband Paul, 64, also keep chickens as well as two retired race horses.
She said: "Lottie is adorable. We have been told she has made a good progress and should make a good recovery."