Warrington Council to invest £59m in solar farms in Yorkshire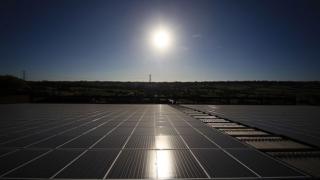 Warrington Borough Council has agreed to invest £58.7m in two solar energy farms more than 90 miles away in a bid to reduce its electricity bill.
The local authority has approved plans to purchase the plants in Hull and York.
The solar farms will supply electricity to the council in a move forecast to save £1m per year.
The deals will be funded by borrowing, but the council believes the savings will offset those costs.
Deputy Leader Russ Bowden said: "I am very proud of the work the council has done around solar investment.
"I think it is a real credit to the council in terms of the green energy agenda and around the work of driving income for the council.
"This will generate significant income for the council over and above the cost of borrowing for those investments."
'Massive budget cuts'
Councillors at Monday's meeting, covered by the Local Democracy Reporter Service, said the significant investment was not necessarily a sign that the government's austerity programme was ending.
Councillor Hitesh Patel said: "The common theme here is about trying to generate income to plug a gap in our budget from funding that we would traditionally get from central government.
"Theresa May announced austerity is ending and here we are making decisions about investing.
"The fact is that it is not ending and local authorities are still having to deal with massive budget cuts and trying to square this circle."
And Councillor Hans Mundry told the meeting that such investments could save "countless" jobs.