Huge 22-tonne 'bonfire' dismantled near Liverpool Airport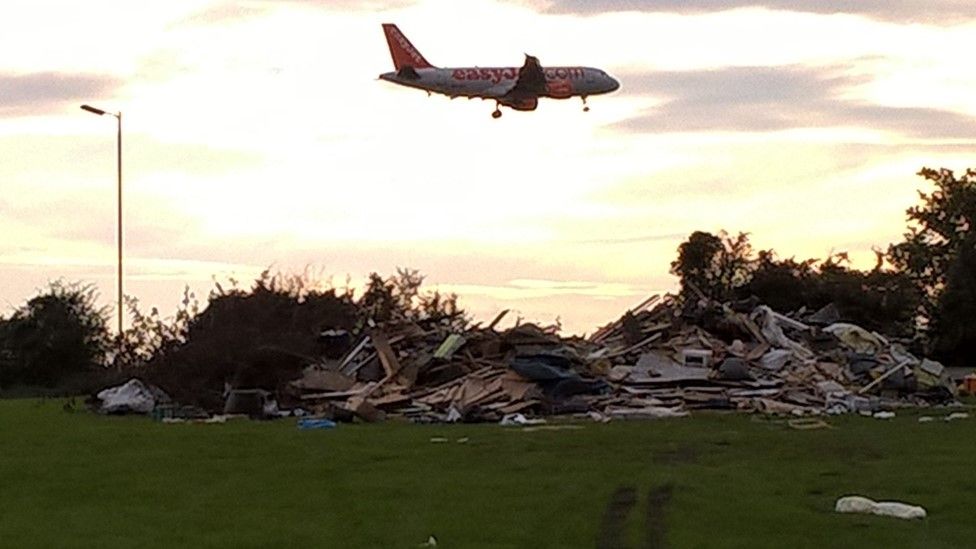 A 22-tonne "bonfire" assembled in the flight path of Liverpool John Lennon Airport has been dismantled.
Found on Hale Road in Speke, the huge pile of combustible waste took council staff two days to clear.
"An idiotic minority" were also "stupid enough" to store items in an alleyway on Smith Street in Kirkdale, putting residents at risk, the council said.
Almost 40 tonnes of hazardous materials have been removed in Liverpool in the run-up to Bonfire Night.
Merseyside Police, Mersey Fire and Rescue Service and social housing providers dismantled three large-scale potential bonfires as part of Operation Banger.
Many other smaller bonfires have also been removed, with common materials used being wood, doors and mattresses.
Councillor James Noakes, cabinet member for street scene, said: "At a time when everyone knows the emergency services will be stretched to the limit on Bonfire Night, it beggars belief that an idiotic minority are downright stupid enough to do this.
"We will be investigating who has left this material and taking action where we have evidence, because in some cases we suspect that demolition firms are deliberately dumping waste.
"We strongly advise that people attend properly organised and managed displays which are fully risk assessed to make sure that everyone has an enjoyable night and that no-one gets hurt."
All the materials that have been cleared have been sent to be recycled.