Liverpool car park fire: Hundreds of burnt-out vehicles removed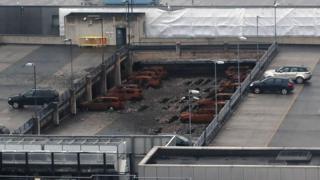 More than 1,000 vehicles that were destroyed in a huge car park fire are being removed ahead of its demolition.
Temperatures in the multi-storey car park on King's Dock in Liverpool reached 1,000C during the inferno on New Year's Eve 2017.
Demolition was delayed while Liverpool City Council, motorists and insurers reached agreement over claims.
Liverpool Mayor Joe Anderson said establishing a plan to dismantle the structure had been "hugely complex".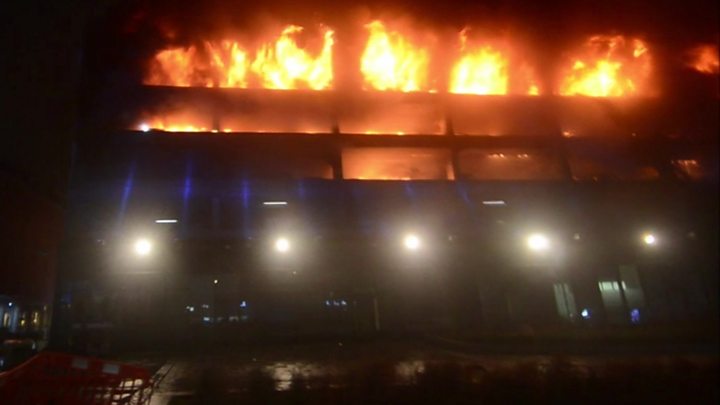 Thousands of spectators had to be evacuated from the nearby Echo Arena where the final event of the Liverpool International Horse Show was taking place on 31 December last year.
People living in nearby apartments were also forced to leave as 21 fire crews tackled the blaze which began when a Land Rover burst into flames.
No-one was seriously injured, but more than 1,000 vehicles were completely burnt out leaving insurers with an estimated £20m bill.
Up to 150 cars on the car park roof survived the blaze but suffered water, heat and smoke damage.
An agreement on what will happen to those vehicles has now been reached, which will see them taken to a secure compound, where owners will be able to remove their belongings.
Mr Anderson said a plan to dismantle the existing car park had been "a hugely complex and detailed piece of work which has prioritised the safety of people".
"We must not forget that it has been a traumatic process for those whose cars were inside and have had to go through the process of negotiating an insurance claim."
Once demolished, the car park site will be levelled and incorporated into a wider plan for the area.
Planning permission has been granted for a new nine-storey car park at nearby Monarch's Quay, which will be fitted with a sprinkler system.