Liverpool travel agent conned clients out of £250k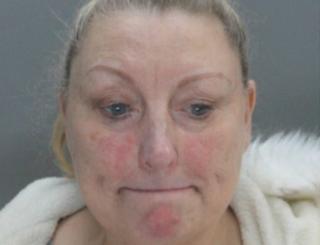 A travel agent who conned clients out of more than £250,000 - including tricking a financial adviser out of almost £175,000 - has been jailed.
Liverpool Crown Court heard Rita Hunter "brazenly" took some of the money while she had a suspended prison term hanging over her for similar frauds.
She has left a trail of 13 "devastated" customers with "no explanation" about where the money went, the court heard.
Hunter, 63, from Liverpool, was jailed for four years and eight months.
Chris Hopkins, prosecuting, said the offences which involved 11 victims from Merseyside, one from Warwickshire and one from Yorkshire, took place between 2016 and this year.
He said Hunter, of Sankey Street, had become friends with several victims including the main victim and his wife, then fleeced him after his wife's death.
The court heard Hunter repeatedly tricked him into investing in her business until September when he discovered a document she gave him from the Financial Ombudsman about her alleged frozen bank accounts was bogus.
Hunter received an 18-month suspended sentence in August 2016 for cheating two customers and was ordered to pay back £51,430.
She was jailed for six months in April after only paying £250 of the compensation, but continued her dishonest ways.
'No end of suffering'
Judge Anil Murray jailed her for three years and eight months for nine fraud offences and activated 12 months of the suspended sentence to run consecutively.
Hunter admitted the offences and had five similar offences taken into consideration.
Referring to her earlier conviction the judge said: "You were living a lie and you were offending then and continued doing so. You were given a chance and carried on acting in the same brazen dishonest way.
"These were really mean offences that have caused no end of suffering to people, a lot of whom considered you a friend.
"You lied and lied and lied again to lots of people."
Brendan Carville, defending, said Hunter had "no explanation" about where all the money had gone.