Rochdale teen ecstasy death: Three criticised by coroner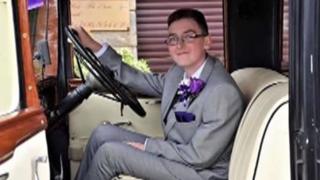 A teenager suffering a severe reaction to ecstasy was left to die in a tent by three adults who were not in a "fit state" to supervise him, an inquest heard.
Josh Connolly-Teale, 16, had been drinking heavily on a camping trip on 25 May, Rochdale Coroners Court heard.
His mother Joanne said she only let him go because three adults were supposed to be supervising him.
Coroner Lisa Hashmi branded the trio "irresponsible".
The inquest heard Josh was part of a group who had been drinking heavily at the site in Dewhirst Road on 25 May.
'Made a mistake'
A woman, who told the court she had drunk about five or six cans of lager, recalled seeing Josh being held upright by two friends before he became ill.
The younger teenagers told her he was "very drunk" and had smoked cannabis, she said, so they put him in the tent.
She did not call Josh's parents or get medical attention because she assumed he would sleep it off, she told the inquest.
"I hold my hands up - I made a mistake," she said.
'Dogs treated better'
Josh was not breathing when he was found in the tent the next morning.
Recording a verdict of misadventure, Ms Hashmi said the adults' actions were "irresponsible and unacceptable" and "had they been in a fit state I believe it would have been obvious he required their attention".
His mother said after the hearing she was "disgusted" at the way the trio had treated her son.
"You wouldn't treat a dog like that," she said.
"At 16 you are still a child."
Ms Hashmi asked the media not to identify a boy present the night before Josh was found dead.