Cammell Laird: Shipyard workers walk out over job cuts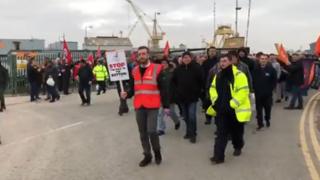 Workers at shipbuilder Cammell Laird have walked out in a protest at what unions called "callous" job cuts.
The Unite and GMB unions said about 250 workers would take part in 10 weeks of industrial action at the Birkenhead site over plans to cut 291 jobs.
They said about 40% of the workforce could go by March, despite the firm receiving £620m to support Royal Fleet Auxiliary tankers.
Cammell Laird urged staff to reconsider and the action was "counterproductive".
Unite said nearly 80% of their members backed strike action at the shipyard.
The action will begin with an overtime ban and a series of rolling strikes, which will see different sections of the workforce walking out for 24 hours at a time.
'Totally committed'
Unite regional officer Ross Quinn said the firm "should be in no doubt of the determination of the workforce to defend their jobs".
"Bosses have signalled their intent to press ahead with their callous plans that will see vital shipbuilding skills lost for a generation."
More stories from the North West of England
Albie McGuigan, the GMB's regional organiser, said his members "believed their future was secure after recent announcements of contract awards and agreeing a long term pay agreement".
"They feel badly let down," he added.
The firm's chief executive John Syvret said the shipbuilder remained "totally committed to being at the heart of the Merseyside economy".
"To threaten strike action is counterproductive and only undermines our ability to create work for the community," he said.
"I urge all to reconsider their position on engaging in industrial action and stop this campaign and turn their focus and energy in helping us to win more business."
Shipyard workers recently built the £200m vessel RRS Sir David Attenborough, which includes a yellow submarine named Boaty McBoatface after an online campaign.