New Ferry explosion: Communities secretary rules out funding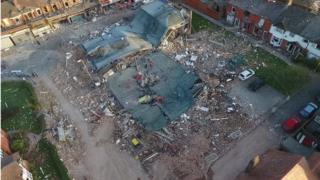 The government will not contribute to the rebuilding of an area hit by a gas explosion as no request for recovery funding was submitted, the communities secretary has said.
Thirty-three people were hurt in the blast in New Ferry, Wirral in 2017.
James Brokenshire said Wirral Council did not "submit a business case" for funds and had enough reserves to cope.
Council leader Phil Davies said the response was "outrageous" and local MP Alison McGovern said she was "furious".
The explosion, which was centred around Bebington Road, damaged several buildings in the local area.
The government previously said the incident did not meet the threshold for funding, as emergency recovery costs should be covered by local resources.
Weasel words
In a letter to Ms McGovern, the Labour member for Wirral South, Mr Brokenshire said the council had been advised to "submit a business case" if costs were "going to have significant impact on council resources", but "no such request" had been submitted.
The council said it submitted a request for funds from a different government scheme a year ago and was still awaiting a response.
More stories from the North West of England
Mr Davies said the communities secretary had used "mealy-mouthed and weasel words, wrongly implying we have not requested funding through proper channels".
He said he was told "by the [Northern Powerhouse] Minister Jake Berry in July 2017" that the council "did not qualify" for the funding Mr Brokenshire was referring to, "so why would we have made a formal application under those circumstances?"
He said it was "outrageous", adding that it was "time for central government to step up to the plate the same way as rightly they've done in Grenfell, Salisbury and Leicester".
Ms McGovern said she was "devastated and furious [that] we have to be punished as Wirral council tax payers".
She said the community would "find a way to get our town rebuilt", but added that there was a "strong feeling of anger and unfairness".
Pascal Blasio, 56, of Gillingham, Kent has denied causing the blast, while utilities company Contract Natural Gas Ltd pleaded not guilty to a health and safety charge in relation to it.
Both are due to stand trial in January.