Merseyside launches sex violence inquiry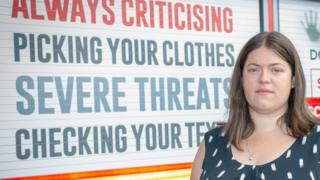 A new inquiry which will investigate how woman have been supported after suffering sexual violence is to be launched in Merseyside.
Too many women do not get the support they need from the criminal justice system, according to the region's Deputy Police Commissioner.
Emily Spurrell said the inquiry will investigate the experiences of those who have suffered such crimes.
"We know there is room for improvement," Mrs Spurrell said
Over 2,600 sexual offences were reported to police in Merseyside from April 2017 to April 2018.
The Sexual Violence Review, which will be completed next April, will examine the nature and extent of the problem across the region, as well as the services provided to those who are affected.
Horrendous crimes
"Sexual violence ruins lives, destroys women's emotional and mental wellbeing and leaves wounds that can last a lifetime," Ms Spurrell said.
"Crucially, we will ... be asking women who sadly have suffered these horrendous crimes to find out about their experiences of reporting an incident of rape or sexual assault.
"We want to hear about their journey through the criminal justice system," Ms Spurrell said. "At the moment, far too many women do not get the support they need and deserve."
Figures from the Office for National Statistics show there was a 12% increase in sexual offences that were reported to Merseyside Police in the 12 months up to April.
Women are about five times more likely to be the victims of sexual assault than men, according to the ONS, with a fifth of women subject to at least one sexual assault during their life time.
In Merseyside, about 80% of prosecutions for crimes categorised as 'violence against women and girls' lead to convictions, according to data from the Crown Prosecution Service.
This figure includes offences such as domestic violence and stalking, which may not be sexual in nature, however.
The sexual violence inquiry will be conducted by Liverpool John Moores University's Public Health Institute, in partnership with NHS England, Ms Spurrell said.
It follows the announcement in March that the Liverpool City Region would develop a strategy to end violence against women and girls.
The inquiry will speak to local authorities, agencies and charities as well as to those affected by sexual violence although it is not expected to hold any public hearings.