St John's Market Liverpool: Council confirms talks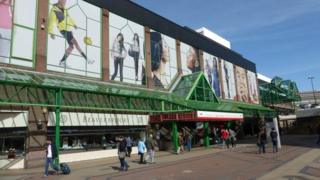 Talks have begun on the future running of a Liverpool market which dates back almost 200 years.
Opposition councillors accused Labour of "one blunder after another" over a £2.5m refurbishment of the council-run St John's indoor market.
The refurbishment was completed in 2016 but, since it re-opened, traders have complained of falling numbers.
Deputy leader Gary Millar confirmed the council was looking at possible options but said it had no plans to walk away.
He said: "It's early days but we are looking at what's been suggested by others.
"However, that doesn't mean to say that they are the right deals for the traders and the customers.
"The traders know that people have been sniffing around looking for solutions and ideas and they are right to make those suggestions. We can't shut the door and say we're not talking to anybody."
Numbers halved
Liverpool City Council bought back control of all city markets in a £1 deal in September 2016, two months before St John's reopened.
Liberal Democrat leader Richard Kemp has blamed the council-led revamp for falling visitor numbers.
He said: "The refurbishment of St John's Market has clearly seen one blunder after another.
"After spending £2.5m of borrowed money on the redevelopment, and losing almost £1m, they now have half the number of people using the market than they were before the refurbishment.
"The situation is now so bad that they are negotiating with two organisations."
Colin Laphan, chairman of the St John's Market Traders' Association, said the traders have been given assurances by Liverpool Mayor Joe Anderson that the council was fully committed to the future of the market.
He said: "We, as a body, have been working proactively with the council on a number of plans and ideas taking the market forward and rejuvenating it as a community centre for the city of Liverpool."
A council spokesperson said: "Any changes will naturally involve the traders but these options are only at an exploratory stage and a lot of work is still to be done before any meaningful consultation can begin."