Royal Liverpool Hospital: Work on stalled £335m project resumes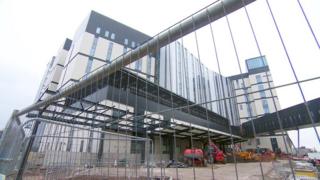 Work to finish the building of Royal Liverpool Hospital has resumed.
Construction of the already delayed £335m, 646-bed hospital - due to have opened in March 2017 - was halted in February after Carillion's collapse.
New contractors Laing O'Rourke have started to clear the site ahead of the resumption of building work. It is now estimated the hospital will be ready to open by the end of 2020.
Trust chief executive Aidan Kehoe said it had been "a turbulent 11 months".
"We are looking forward to the New Year with fresh optimism," he added.
"With Laing O'Rourke and others in place, more contractors to follow in the coming months, and work returning to the site, our staff are now refocusing their attention on our plans for moving in."
From 3 December "early work will begin to gather pace and continue over the next four months", according to the Royal Liverpool and Broadgreen University Hospitals NHS Trust.
That initial work will include the completion of a security room to monitor CCTV throughout the new hospital building, along with modification to the ventilation system in the anaesthetic rooms in theatres.
The completion of an energy-saving lighting system, meaning lights will switch off automatically in unoccupied rooms, will also be completed by February, the Trust added.
Work to replace unsafe cladding installed by Carillion, and repairing beams in other parts of the structure, will also take place in the next two years.
The Trust is also working with Laing O'Rourke on a procurement process involving about 140 contractors who were already employed on the site prior to Carillion's collapse.
"Having all these contracts in place will help facilitate a swifter restart of construction," the Trust said.
The hospital was originally funded under a Private Finance Initiative (PFI) where companies provide money for new hospitals and then charge annual fees.
But NHS bosses announced last moth that and public money would instead be used to complete the work.
In February, Carillion filed for compulsory liquidation with debts of about £1.5bn and local MPs called on the government to intervene.
Birkenhead MP Frank Field described the incomplete hospital as a "creaking monument to… greed" following a damning report into the "rotten corporate culture" at Carillion.