Samantha Gosney murder: Police arrest man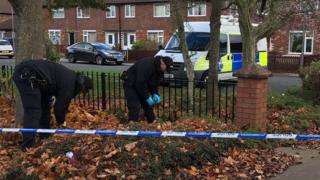 Police have arrested a man on suspicion of murdering a mother of two at her home in St Helens.
The 23-year-old man from Warrington was taken to a police station to be interviewed on Monday.
Samantha Gosney, a 29-year-old mother of two young children, died from multiple stab wounds, a post-mortem examination found.
A man and two women have been arrested on suspicion of assisting an offender.
Ms Gosney was found dead by police officers at Swan Avenue just before midday on Saturday.
The three other people arrested - two women, a 43-year-old from Warrington and a 67-year-old from St Helens, and a man, aged 45, from Warrington, were later released on conditional bail.