Elvis bible and Michael Jackson self-help book sold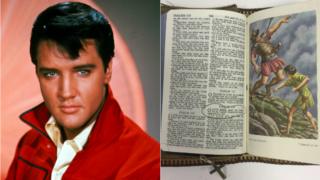 Books treasured by Elvis Presley and Michael Jackson have fetched princely sums at auction.
A self-help book owned and annotated by Jackson sold for £4,600 and Elvis's bedside bible fetched £10,000 when they went under the hammer on Tuesday.
The books were part of a pop music memorabilia auction held at Omega Auctions in Merseyside.
Other items sold included a letter written in the 1980s by The Smiths front-man Morrissey.
The sale attracted a full house in Newton-le-Willows and more than 600 internet bidders globally.
The leather-bound book was sent to Elvis in 1957 by fan Marcia Brown and remained his "personal and last" bedside bible, the auction house said.
It was sold to an overseas bidder along with Ms Brown's note to the star and her photo.
Michael Jackson's copy of Robert Greene's 1989 book, The 48 Laws of Power, was extensively annotated by the singer.
On one page he made a note next to a reference about the Roman goddess Diana which read: 'Wow - like Lady Diana'.
Other items which drew strong interest included unreleased master tapes from a 1971 recording session by David Bowie, which fetched £17,000 - far above the £5,000 upper guide price.
A collection of photographs shot during Bob Marley's performance at London's Lyceum Theatre in 1975 and later discovered at a house clearance sold for £27,000.
Morrissey's letter, sent to a friend on his "fourth day bedridden", complained about the mail he received from "mad" fans.
It sold for £1,700.