The Muslim families donating to food banks for Christmas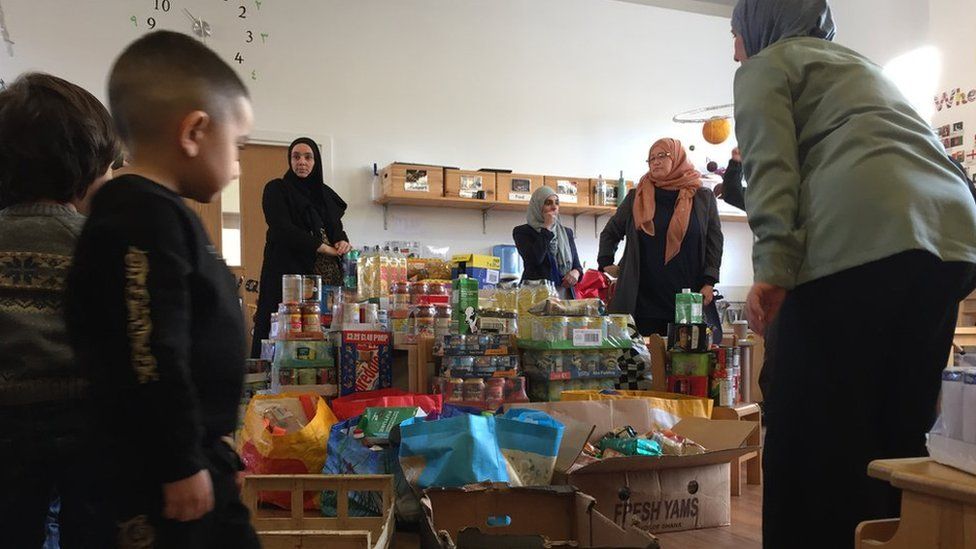 Muslim families across Liverpool have been donating food to people who would otherwise go hungry this Christmas.
Several Islamic organisations in the city, which was home to England's first mosque, have been collecting for food banks during the festive season.
At one collection point, the Happy Children Nursery in Wavertree, staff used donations to teach that charity is both a British and Islamic value.
"Hunger does not discriminate," nursery manager Saeeda Aslam said.
For the past five years, the nursery, where children learn Arabic, has collected food from Muslim families living in the city and who come from dozens of different countries.
Previously, this was donated to a local church, but this year it has been collected by the local Fans Supporting Foodbanks charity, run by supporters of the city's rival Premier League football teams, Liverpool and Everton.
Throughout December, the charity has collected more than ten tonnes of donations from around the city, including from the Abdullah Quillam mosque, founded in 1887.
Stephen Middleton, a Fans Supporting Foodbanks volunteer who picked up the nursery's donations, said he knew from personal experience what it was like to rely on a food bank.
"It makes a massive difference. There's a lot of people now hungry in this city," he said.
The food he collected will be handed out during the Christmas week, said Mr Middleton. Earlier in the day, the charity had picked up another donation from a Catholic school in Liverpool.
"It doesn't matter if you're white, Muslim, Christian, if you support Liverpool or Everton, we come together, and that's the thing about this city," he said.
Nicola Williams, who converted to Islam seven years ago and whose son is at the Happy Children Nursery, said she had seen an increasing number of people going hungry in Liverpool in recent years.
"For us, it's just about serving humanity and investing in our community. Giving back to the community. What we say as Muslims is if you've been given something, then you have to pass that something on," she said.
Related Internet Links
The BBC is not responsible for the content of external sites.