James Bulger: Two admit posting 'photos of Jon Venables'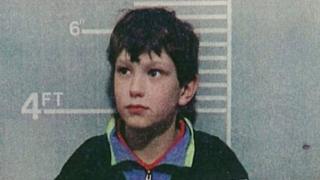 Two people posted photos on social media they said identified James Bulger killer Jon Venables, a court heard.
At the High Court, Richard McKeag, 28, and Natalie Barker, 36, admitted eight contempt of court offences.
Venables and Robert Thompson were convicted of murdering James in 1993, but there is a global ban on publishing anything revealing their identities.
McKeag and Barker were given suspended prison sentences.
Lord Chief Justice Burnett said that, were it not for their personal circumstances, they would have been sent to prison immediately for "serious" breaches of the injunction protecting Venables' identity.
The judge told the court there was a risk of someone being "killed or seriously injured", including anyone who was wrongly identified as one of James Bulger's killers.
He said the "haunting images" of the two year old being led to his death by Venables and Thompson, would "remain forever in the minds of anyone who saw them".
The pair also admitted seeking information about Thompson.
'Planned and deliberate'
The court heard McKeag admitted three breaches after posting an article on his website entitled "Jon Venables Pictured - Killer's Identity Revealed", in November 2017.
The article contained photographs, said to be of Venables, and purported to reveal his new identity and place of work.
Mr Justice Warby said McKeag's offences were "planned and deliberate".
He wanted to "defeat the legal system by mass publication and was well aware of the risks he faced," he said.
McKeag, who was given a 12-month suspended sentence, could not attend court after being admitted to hospital on Wednesday.
Through his counsel Keir Monteith, he said: "I hold my hands up for having a total disregard for the law. It is not up to me to serve justice that must be left to the courts."
In February and March 2018, Barker posted a picture on her Twitter account, which had 649 followers, purporting to be of Venables and his fiancé.
The image was retweeted 24 times and received a number of likes, and she persisted even after receiving warnings from Twitter and the police.
Barker's conduct was "impulsive and stupid", Lord Burnett said as she was given an eight-month suspended sentence.
Her lawyers said she now understood the seriousness of her actions, had expressed remorse and has closed her Twitter account.
The court heard one man mistaken for Venables said he and his family had "endured five years of danger".
Attorney General Geoffrey Cox QC, who instigated the contempt proceedings said after the hearing: "The injunction protects the identities of the offenders, but also innocent individuals who may be wrongly identified as being one of the two men and placed in danger as a result.
"Posting this material online is a crime."
Actress Tina Malone is facing contempt of court proceedings over a post she made on social media which purports to show images of Venables.
The Attorney General's Office confirmed last week it had sent a summons to Ms Malone, who appeared in Shameless on Channel 4.
Venables and Thompson were 10 when they tortured and killed James after abducting the two-year-old from a shopping centre in Bootle, Merseyside, in 1993.
In November that year, they became the youngest children ever to be convicted of murder in England.
Venables and Thompson have been living under new identities since they were released in 2001 under licence. This means they can be recalled at any time.
Venables was jailed in 2010 for having child abuse images on his computer.
He was also imprisoned in 2018 for the same offence.