Hillsborough trial: Pitch was 'like a battleground'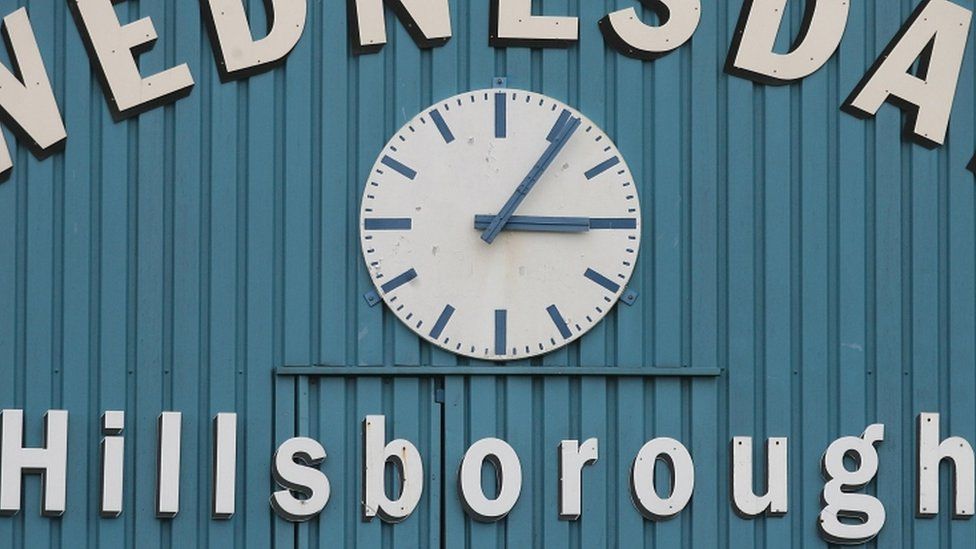 The mother of a schoolboy who died at Hillsborough has told a court the pitch "looked like a battleground".
Dolores Steele's son Philip was among the Liverpool fans who died during a crush at the 1989 FA Cup semi-final.
She told Preston Crown Court she heard fans shouting at police to open gates in the terrace fence but "nothing seemed to be getting done about it".
Match commander David Duckenfield, 74, denies the gross negligence manslaughter of 95 Liverpool fans.
Mrs Steele told the court she had travelled to the game with her husband Les, 15-year-old Philip and his brother Brian, 13.
The boys had tickets for the Leppings Lane terrace, beneath the West Stand where Mr and Mrs Steele were sitting.
She said shortly after the game began the pens "suddenly looked very crowded" and a fan was carried on to the pitch before a jacket was placed over their face.
Supporters pleaded for the gates to be opened and told officers people were dying, she told the court.
"I seem to remember about four police officers standing looking in towards the pens but nothing seemed to be getting done about it," Mrs Steele said.
A gate to the pen was opened and people were carried out on to the playing surface, she said.
"Suddenly the football pitch looked like a battleground - there were so many people out there lying around," she said.
She walked down from the stand with her husband and saw Brian standing on a wall on the concourse looking for his brother, the court heard.
They called an emergency number given to them by a police officer and were driven to Northern General Hospital by the son of a "very kind lady" who allowed the couple to use her phone.
The jury heard a doctor came in and "explained that there would be bad or sad news for 11 families".
Mr and Mrs Steele recognised a description of Philip which was read out, before identifying items including a signet ring and watch which belonged to him.
They were joined by Brian and taken to a boys' club, where families had gathered, and then back to the gymnasium at Hillsborough stadium where Mr Steele identified Philip's body.
The court also heard statements describing the crush.
They included one from Liverpool supporter Deborah Routledge who said she was crushed against the fence and was only able to take "short gasping breaths".
She said: "I recall someone holding on to one of my ankles. I felt a loose grip for about two minutes and then the hand let go."
Mr Duckenfield, of Ferndown, Dorset, is on trial alongside Sheffield Wednesday's ex-club secretary Graham Mackrell, 69, who denies a charge related to the stadium safety certificate and a health and safety charge.
Related Internet Links
The BBC is not responsible for the content of external sites.