Liverpool: Crowds celebrating title win despite coronavirus fears 'told to leave'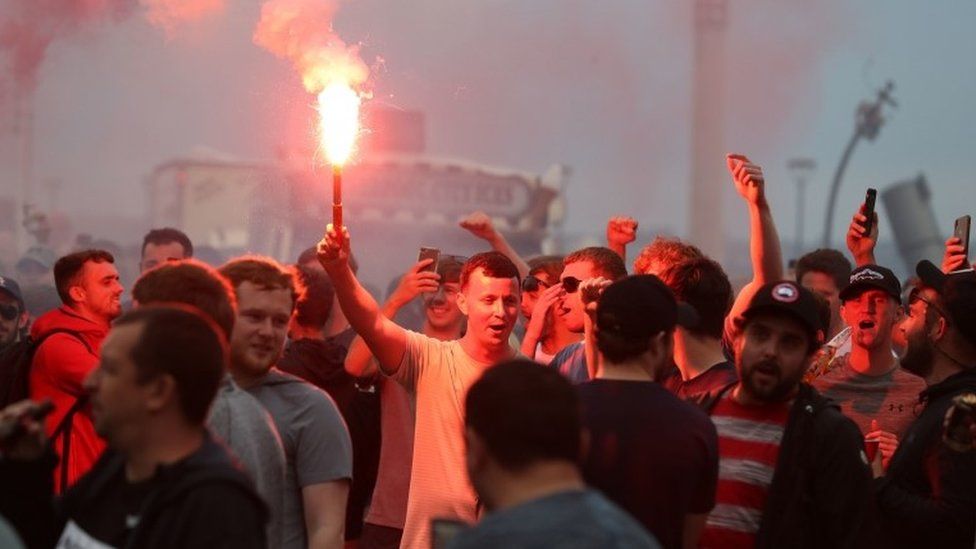 Football fans who gathered in Liverpool for a second night after their team netted the Premier League title have been asked to leave by police.
A dispersal order was issued around the city centre after groups came out again on Friday to celebrate Liverpool's first title win in 30 years.
Merseyside Police said the order will be in place until Sunday.
The force said a Section 34 Dispersal Order was issued "following large gatherings in the area this evening".
"We know a lot of Liverpool fans want to celebrate their Premier League win, but there is a time and a place for this - and this weekend is neither.
"Tonight we have seen masses of people flock to the Pier Head area heightening the risk of spreading Covid-19," it said.
People took to social media to comment on how people were behaving, about flares being launched at the Liver Building and fireworks being set off.
Mortified by the behaviour of the idiots at the Pier Head. Not a thought for anything or anybody but themselves.
Pointing fireworks at the Liver Building. FIREWORKS!
Giving others an excuse to (rightly) slag us off again. Absolute lowlife.
Please stay at home.
@LFC

— Kathy (@Sandison) June 27, 2020
Every liverpool fan that is at the pier head should now think about returning home #YNWA

— Adam Page🏆🏆🏆🏆🏆🏆 (@AdamPage3) June 26, 2020
Police urged people to "act responsibly" and abide by social distancing measures to "protect yourselves and each other".
As celebrations got under way again, 24 hours after the club's title triumph was confirmed, the mayor tweeted a photo of a large crowd gathered next to the city's Mersey Ferry terminal.
He wrote: "Clearly too many people intoxicated and causing anti-social behaviour.
"I urge you leave the city centre now it is not safe."
He went on to say "councils simply do not have the power" to move people on or prevent them from gathering.
"If you know someone who is there, please message them and ask them to come home," he added.
There is clearly to many people intoxicated and causing anti social behaviour, around City Centre, Please I urge you leave the City centre now it is not safe. @MerseyPolice will take action against people not obeying rules Covid-19 is still a real risk. pic.twitter.com/RhdLFRY66F

— Joe Anderson (@mayor_anderson) June 26, 2020
"We're not saying this to be party poopers but hundreds of people have already died in our region because of coronavirus," he wrote.
"Until it's safe for us to come together, please celebrate at home."
Merseyside Police's Assistant Chief Constable Rob Carden said fans should only celebrate with "members of your household and in your social bubble".
"As we all know, Merseyside has been disproportionately affected by Covid-19 and we must all do what we can to prevent further cases and deaths," he said.
Official figures show Liverpool registered 544 coronavirus-related deaths up to 12 June and 1,677 cases up to 25 June.
Announcing that the city's civic buildings would be lit red for a week to celebrate the club's achievement, a council spokesman urged "ecstatic fans to try and maintain social distancing guidance to prevent the spread of coronavirus".
Council chief executive Tony Reeves added that it was "vital we don't throw away the months of hard work for a weekend of celebration".
In April, Mr Anderson said he feared restarting the Premier League would lead to a "farcical" situation with fans congregating outside Anfield.
The club said at the time that they were "disappointed" by the mayor's comments, while supporters group Spirit of Shankly called on him to retract his statement, adding that there was "no evidence to support the mayor's perception that supporters will break any lockdown regulations".
Both Liverpool FC and Spirit of Shankly have been approached for comment.
Speaking to BBC, Mr Anderson said he had "warned that I was concerned about the numbers that would turn up, not just outside Anfield but in other parts of the city centre".
"In the euphoria... people have decided to ignore advice, but it's gone, it's happened.
"We'll have to see whether there's a spike in coronavirus as a result of this."
"But if Chelsea or Manchester City had won the league, we would have seen the same scenes outside Stamford Bridge or the Etihad.
Related Internet Links
The BBC is not responsible for the content of external sites.