Bootle Covid-19 hoax-claim salon 'able to reopen'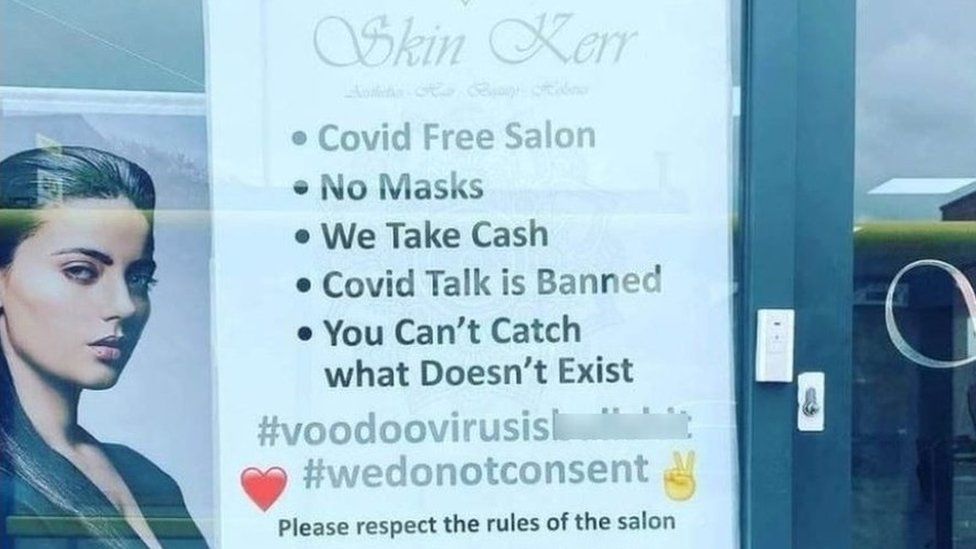 A beauty salon that put up posters claiming coronavirus is a hoax has been told it can reopen.
The council said it had now been assured by the owner they were willing to comply with Covid-19 regulations.
"For all our lovely clients messaging to make sure everything's ok thank you so much for your ongoing support, see you all soon," it added.
However a council spokesperson said the salon was only allowed to reopen from 18:00 on Wednesday.
The council said Environmental Health officers had worked "constructively" with the business to enable it to reopen with appropriate coronavirus measures in place.
This means that the imminent threat of infection has been removed, it said.
Council officers will continue to carry out inspections.
Any breach would result in the business being ordered to close again, the council said.
The Aintree Road salon had repeatedly put up posters stating: "You can't catch what doesn't exist".
Police and council staff visited the salon in September.
Paulette Lappin, cabinet member for Regulatory, Compliance and Corporate Services, said the council would "not hesitate to take action" when businesses refuse to put in place measures to keep staff and customers safe.
Related Internet Links
The BBC is not responsible for the content of external sites.