Covid: Thirteen arrests at Liverpool anti-lockdown demo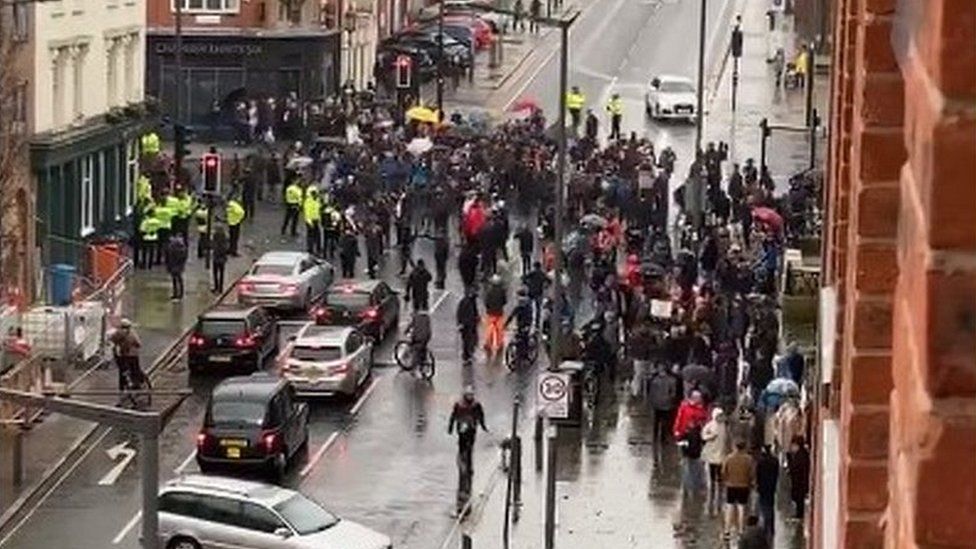 Thirteen people have been arrested after an anti-lockdown protest in Liverpool on Saturday.
Hundreds of people have gathered for weekend rallies since the second national lockdown began on 5 November.
At Saturday's protest, a 36-year-old man, from Kirkby, was held on suspicion of assaulting an emergency worker after an officer was pushed in the chest.
The remaining 12 people were arrested for breaching coronavirus rules and public order.
Police also implemented a dispersal zone in the city centre on Saturday, with officers having the power to ask people suspected of anti-social behaviour to leave the area and not return for up to 48 hours.
They issued 25 fixed penalty notices and 10 dispersal notices.
About 33 people are reported to have died with the virus in the past week
There were 1,155 reported cases in the week to 16 November, compared with 1,429 cases in the previous week
Among the city's population of about 500,000, the rate has dropped to 232 per 100,000 from 287
Overall, there were 145,031 cases in England in the week to 16 November, or 258 per 100,000
More than 140,000 people in Liverpool have taken part in the country's first city-wide mass testing pilot, which started on 6 November.
Related Internet Links
The BBC is not responsible for the content of external sites.