Covid: Mass testing in Liverpool sees 'remarkable decline' in cases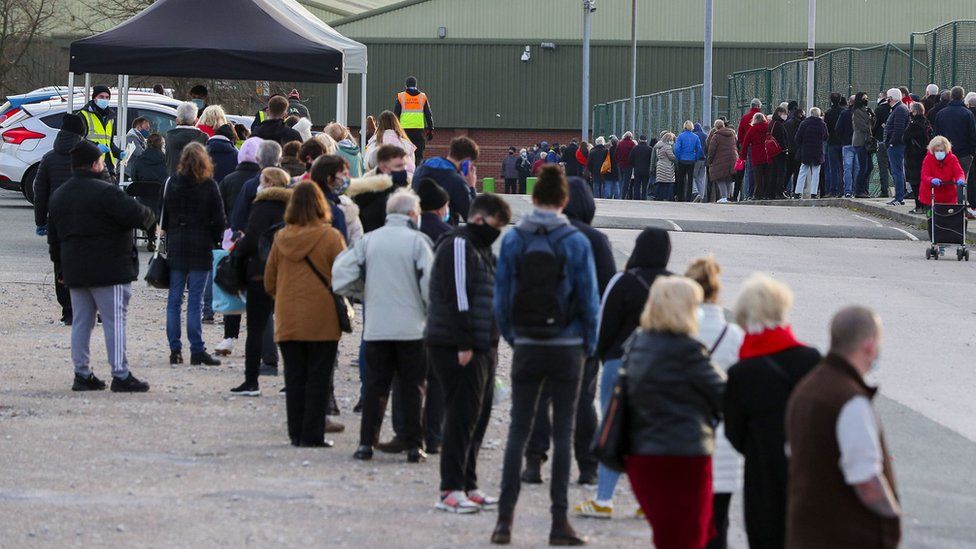 Coronavirus cases in Liverpool have been brought down "quite remarkably" following a rollout of mass testing, Health Secretary Matt Hancock said.
Cases in the city are down by more than two-thirds in the last few weeks, he told BBC Breakfast.
It comes as a new daily testing trial is set to start in the city.
More than 200,000 people in in a population of just over half a million have been tested.
"They've found a load more people who were asymptomatic, didn't know that they had a problem, didn't know they have the virus," he said.
"The combination of the mass testing and the measures in Liverpool have brought the cases down really quite remarkably, much faster than I would have thought was possible."
Peter Kinsella, who runs the Lunya restaurant in Liverpool, said the reduction in cases gives "hope" to the hospitality industry.
"Anything that gives people confidence to come out and eat in restaurants, when lockdown is lifted... is fantastic news", he said.
He also welcomed the daily testing trial as he said several members of staff had been forced to self-isolate after being notified by Test and Trace.
"The fewer times that happens the more confident people will be about going out and circulating," he said.
How does mass testing work?
Mass testing of this kind is designed to pick up cases of coronavirus in people without symptoms.
While people who feel unwell might stay at home anyway, people who haven't yet, or don't ever, develop symptoms are more likely to spread the virus onwards.
Catch those people and get them to isolate and you stop those chains of transmission.
As of Friday, just over 96,000 people without symptoms in Liverpool had been checked using rapid testing kits, with 842 of them testing positive.
That's 842 people who didn't know they were carrying a virus who can now act to stop themselves spreading the virus onwards.
And that's the key - testing is only effective in controlling the virus if it leads to people changing their behaviour as a result of a positive test.
Recently, scientists concluded the national test and trace programme (which focuses only on people with symptoms) was having little effect on the virus's transmission.
In Liverpool specifically, the testing pilot has happened at the same time as a national lockdown, so it's difficult to say how much testing has contributed to a fall in cases and how much is down to restrictions on people mixing.
But the government has made clear it believes the mass testing trial was at least a contributory factor.
It hopes a much wider testing programme might go some way to controlling the virus without having to resort to more lockdowns, while we wait for a vaccine to be rolled out.
But there are concerns some people are reluctant to take part in mass testing due to the financial implications of a positive test.
Annemarie Naylor, Director of Policy and Strategy at Future Care Capital, said people in mass testing pilots "must be encouraged and supported to come forward".
She added: "How do we incentivise people to do the right thing if they're struggling to make ends meet and fear losing income or even their livelihoods? The £500 Test and Trace Support Payment in England is often not enough to assuage their concerns."
Details on how the daily testing scheme will work are expected to be revealed by Prime Minister Boris Johnson later.
Related Internet Links
The BBC is not responsible for the content of external sites.