Coronavirus: Knowsley's rising cases due to 'perfect storm'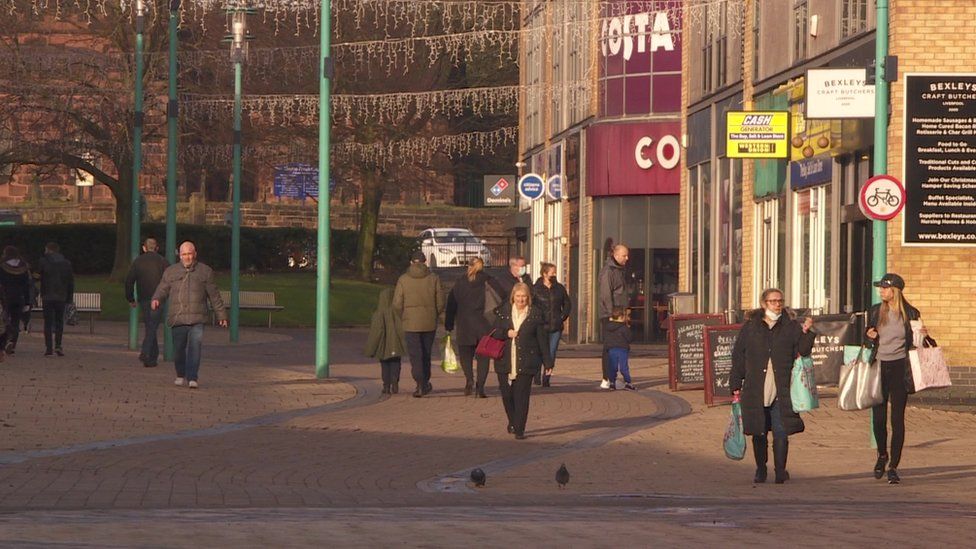 A sharp rise in Covid-19 cases in the Merseyside borough of Knowsley has been blamed on a "perfect storm" of factors.
Latest figures show the region has the second worst rates in England, with 1,399 cases per 100,000 people in the week up to 9 January.
Public health director Dr Sarah McNulty said the area's previous tier two status, the new virus strain and Christmas mixing prompted the spike.
Deprivation and a low-wage economy could also be attributed, she said.
Knowsley and the rest of the city region were placed in tier two following England's second national lockdown in November.
This meant pubs and restaurants could open and alcohol consumed alongside a "substantial meal".
Six people from different households were also allowed to meet in gardens and public spaces, but not indoors.
Dr McNulty said: "I think it has been a perfect storm. We were in tier two, which gave people the opportunity to socialise.
"The new variant has come into the population and really taken off and then we've had Christmas socialising."
She said deprivation in some areas of Knowsley, which also comprises Huyton, Kirkby and Prescot, could also be a factor.
"We have people who can't work from home, people who work in front-facing roles, people who have to take public transport, people who struggle to self-isolate.
"Some people may feel under pressure in work, they may not be eligible for reasonable sick pay," Dr McNulty said.
Whiston Hospital medical director Professor Rowan Pritchard Jones said the equivalent of a ward's worth of Covid patients were being admitted every day.
He said: "These heroic doctors and nurses come in day after day to do this.
"We have staff now who are tired. They've been doing this for 11 months now, leaving their own families to come in and care for some of the most poorly patients out there at the moment.
"It's hard every day and it certainly takes its toll."
Dr McNulty said hospitals in the region were under "enormous strain" and reiterated calls for people to follow the rules.
"It is imperative people act now. Stay in as much as you can. We need to get a hold on this," she said.
She said people who cannot work from home should use symptom-free mass testing sites twice a week.
Prof Jones urged: "Keep your distance, wash your hands, put a mask on, stay safe. Every infection we can avoid is going to make a difference right now."
Related Internet Links
The BBC is not responsible for the content of external sites.