Brain tumour caused Newton-le-Willows woman to hear music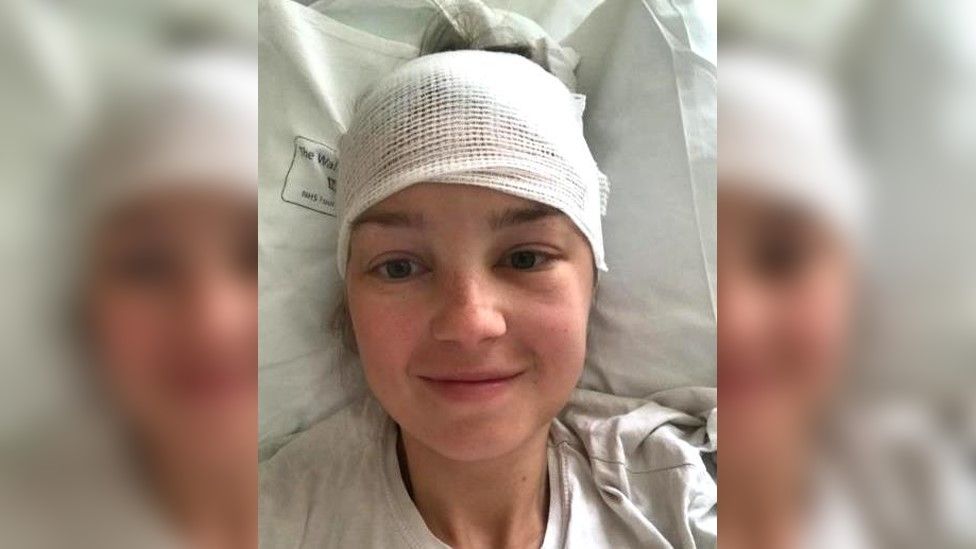 A woman who had an undiagnosed brain tumour that caused her to hear music in her head has said it left her feeling like she was "going mad".
When 29-year-old Emma Bond started hearing people singing in 2019, medics initially put it down to stress.
An MRI scan later revealed the presence of "life-threatening" cancer.
Ms Bond, from Newton-Le-Willows, Merseyside said surgery that removed 95% of the tumour had now alleviated the "bizarre" symptom.
She said the "singing" started out of the blue as she was preparing to marry her partner Edd Blake.
"It was so bizarre," said Ms Bond. "All of a sudden, I started hearing music after we'd been celebrating our joint hen and stag do.
"I thought I was going mad; it felt like people were singing lyrics to me."
After attending A&E and speaking to her GP, she was sent for the scan, which revealed a grade two tumour growing in her brain and causing her to hear the music.
She was referred to The Walton Centre NHS Foundation Trust for neurosurgery, and the remaining tumour was treated with a combination of chemotherapy and radiotherapy, which she received at The Clatterbridge Centre in Wirral.
Ms Bond said she had surgery "the week before I was due to get married", and though that changed her plans, she was "over the moon that my surgeon was able to take almost all of the tumour out".
Hearing sound that no-one else can hear is quite common, but the experience is normally tinnitus and sounds something like buzzing, ringing, or sizzling
Musical hallucinations are typically short fragments of simple melodies, often from favourite pieces or songs from youth, and especially from hymns and carols
In most people, there is no underlying cause found, but in rare cases, it can be caused by serious conditions, such as brain tumours
She said her latest scan had shown what remained of the tumour had "got a tiny bit smaller" and while she does not know "what my future holds, who does?"
"I am embracing all silver linings now and hopefully this tumour will be beaten," she said.
She added that "sadly the wedding has not yet gone ahead", but said it would hopefully happen in July.
"With all fingers and toes crossed, our plan is to get married in a little woodland area and celebrate in some tipis - with lots of music, of course," she said.
She said the care and support she received from both hospitals had "been incredible", adding: "I can't thank them enough.
"It's certainly been an interesting couple of years with surgery and then the pandemic and cancer treatment.
"But it's shown me how much love and support is out there, and that the NHS has been working hard despite all the lockdowns."
Related Internet Links
The BBC is not responsible for the content of external sites.