Ellesmere Port plant will turn household waste into aviation fuel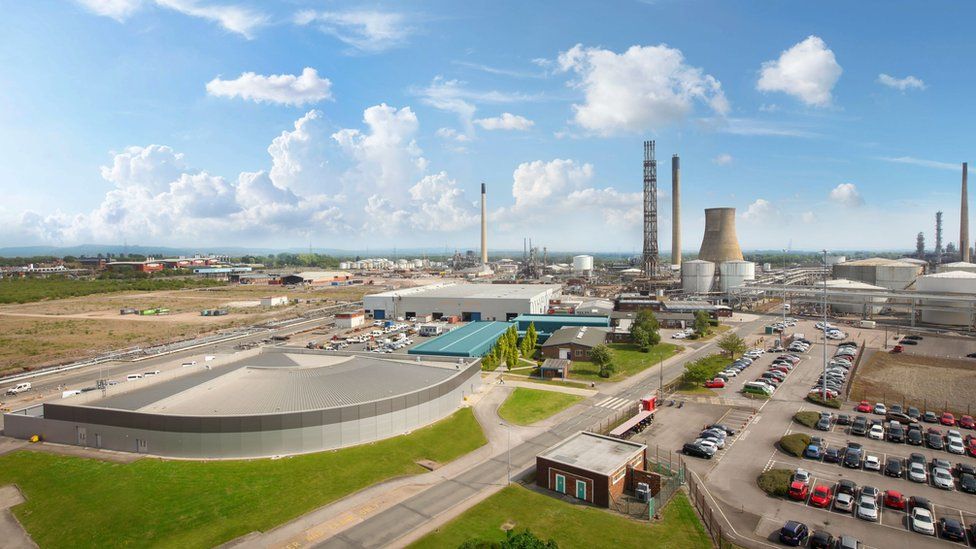 Plans to create a facility that will convert non-recyclable household waste into sustainable aviation fuel (SAF) have been unveiled in Cheshire.
The plant at Stanlow Oil Refinery in Ellesmere Port will create fuel for airlines operating at UK airports.
It aims to help reduce the burden on landfills and reliance on fossil fuels.
Aviation Minister Robert Courts said the facility would create hundreds of jobs as "the region takes the lead in making aviation greener".
The £600m project to create a waste-to-fuel plant - named Fulcrum NorthPoint - is part of a joint project between Fulcrum BioEnergy Limited, Essar Oil (UK) Limited and Stanlow Terminals Limited.
The plans are expected to be completed by the end of this year and - subject to planning consent - will be operational in late 2025, creating more than 100 permanent jobs and 800 direct and indirect jobs during the design, build and commissioning process.
The bio-refinery is expected to convert several hundred thousand tonnes of pre-processed waste into about 100 million litres of low carbon SAF annually.
The development will see Fulcrum construct, own and operate the plant, which will be its first outside the United States.
Jeff Ovens, managing director at UK and Europe Fulcrum, said the plant would "help reduce the burden on landfills and industry's reliance on fossil fuels".
Stein Ivar Bye, chief executive officer at Essar, said the latest plans "complements the announcement last month regarding a blue hydrogen development at Stanlow as part of the HyNet project".
"Together, these initiatives will help diversify the refinery in a greener direction, and help achieve the UK's decarbonisation goals," he added.
Patrick Walters, chief executive officer at Stanlow Terminals Limited, described the plans as a "landmark announcement" as it becomes "a fundamental part of the UK drive to become carbon neutral".