Duke of Edinburgh: When Philip climbed aboard the yellow Duckmarine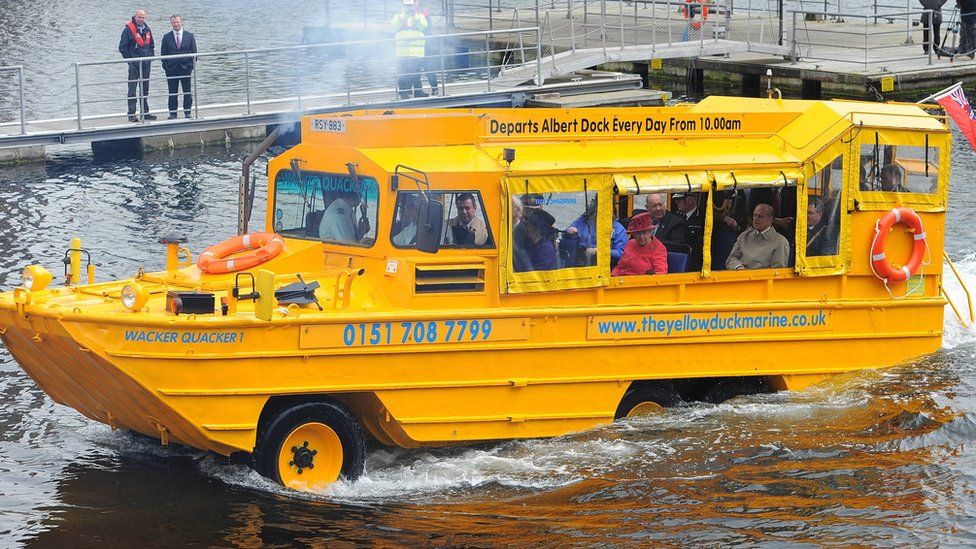 As a former naval officer, Prince Philip certainly felt at home on the water.
But few of his voyages could have been as bizarre - or colourful - as the one he embarked upon with the Queen during her Diamond Jubilee trip to Liverpool in 2012.
The royal couple sailed on the "Yellow Duckmarine" - a bright yellow former World War Two amphibious craft more formally known as the DUKW - on a cruise around the Albert Dock.
The Duke's connections to Liverpool go back to the early years of his marriage to the then Princess Elizabeth, prior to her accession to the throne.
In 1949 they visited the city's Anglican Cathedral and returned two years later for the first ringing of its bells.
They had also sailed into the port after a visit to the United States in 1952.
Before their trip on the Duckmarine, the royal couple opened a new conservation area at Chester Zoo, enjoying a ride on its famous and now sadly decommissioned monorail.
Chester Zoo's director-general Mark Pilgrim said: "To have Her Majesty The Queen and the Duke of Edinburgh join us in Her Majesty's special year, is fantastic."
Philip was known for his love of the natural world, and the former President of the World Wildlife Fund visited Wirral to meet up with his fellow bird-watchers in trips described as Merseyside's best kept secret.
His first trip to Hillbre Island off West Kirby on the Dee Estuary in 1965 saw him meet up with other twitchers and photography enthusiasts.
The island is a stop off point for the twice-yearly migration of birds along the west coast of Britain.
Philip took two other trips to the island in the 1960s and 70s, arriving by helicopter each time.
Some of the prince's photos of his time on Hillbre were later exhibited by the Accrington Camera Club during the Queen's Silver Jubilee in 1977.
Reaction to death of Prince Philip
Related Internet Links
The BBC is not responsible for the content of external sites.