Shrewsbury 24: Ricky Tomlinson would face jail again 'in a heartbeat'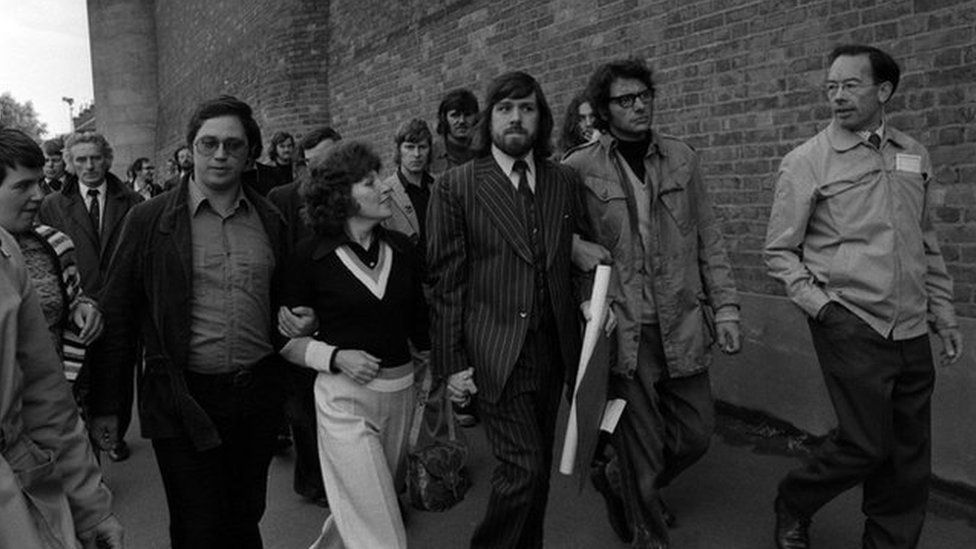 Actor Ricky Tomlinson has said he would face prison again "in a heartbeat" to stand up for workers' rights.
The Liverpool star was one of the trade unionists known as the Shrewsbury 24 who had their 1970s convictions for conspiracy overturned on Tuesday.
The 81-year-old said he endured months of solitary confinement during his two-year sentence because he acted as a political prisoner, but had no regrets.
He said he did what he had to, adding: "You've got to fight, haven't you?"
Members of the Shrewsbury 24 group were convicted of a number of offences, including unlawful assembly and conspiracy to intimidate, following their involvement as "flying pickets", trade unionists who travelled from site to site to demonstrate, in the UK's first national builders' strike in 1972.
Fourteen of those sentenced have campaigned for many years to clear their names.
Speaking to BBC North West Tonight, the actor said if he had accepted his conviction at the time, he could have been "out after a few months", but he had used his incarceration to protest against the legislation that was used to jail him.
"Some of the lads... went to an open prison, they did their time and they got off," he said.
"I couldn't do that and I'm glad I didn't do that.
"If we had gone along and done what they said, we would have been out after a few months, but they would have established that law... which had never been used before, which they jailed us with, and they've never used it since."
He said that meant acting as a political prisoner while in jail.
"We went on hunger strike for over 31 days and ended up in the prison hospital [and] spent months and months in solitary confinement, because we wouldn't wear clothes," he said.
"If you don't wear clothes, you can't have visits, but we knew what we had to do.
"People say to me 'would you do it again?'
"I would do it in a heartbeat again and I would carry on the same as I did."
He said his conviction had devastating consequences at the time.
"I lost my home, I couldn't work, I ended up in debt, but I was one of the lucky ones," he said.
"I got a lucky break and became well known as Jim Royle and [for] Play for Today and Nice Guy Eddie and stuff like that."
Lawyers for the group had argued the destruction of witness statements made their convictions unsafe.
Overturning the convictions at the Court of Appeal on Tuesday, Lord Justice Fulford said by "the standards of today, what occurred was unfair to the extent that the verdicts cannot be upheld".
The actor said he had "pretty much expected" the appeal to be successful, "but I wouldn't say this was a victory for the pickets".
"I'd say this was a victory for the establishment, because what they've done is they've kept us waiting 50 years and then they've said 'oh well - this wasn't right and that wasn't right'," he said.
"They knew from the start that the police had destroyed hundreds and hundreds of statements and made new ones to our disadvantage - they knew that."