Liverpool City Council: Commissioners to oversee authority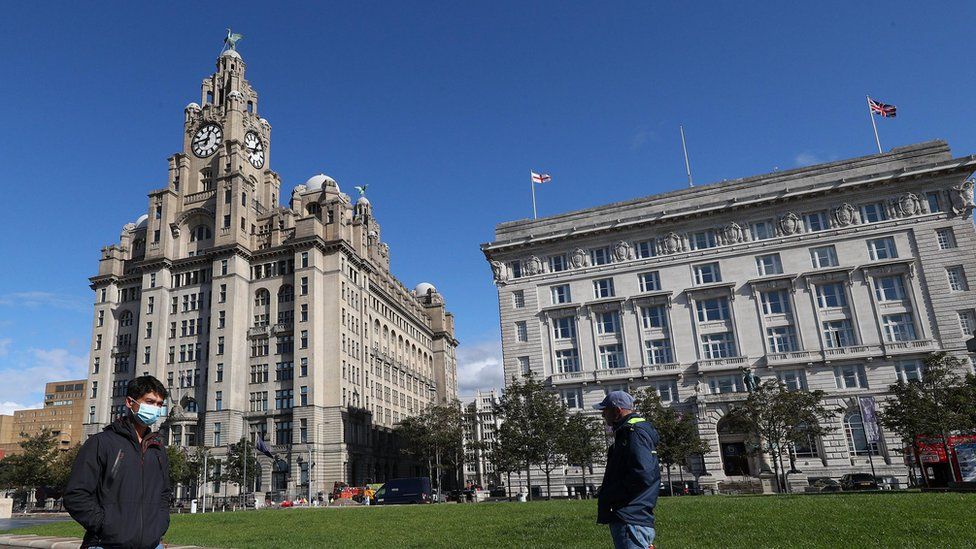 Government-appointed commissioners will oversee parts of Liverpool City Council following a highly critical report, the local government secretary has said.
Robert Jenrick told Parliament inspectors found a "serious breakdown of governance" and "multiple apparent failures" which meant he had to act.
The authority has been under scrutiny since police began investigating building and development contracts.
Mr Anderson denies any wrongdoing.
Mr Jenrick said the "Best Value inspection", commissioned in December, had found "multiple apparent failures" and a "deeply concerning picture of mismanagement" in some functions at the Labour-run authority.
Inspectors had found failures in the planning and regeneration departments, including a "worrying lack of record-keeping" and documents "created retrospectively, discarded in skips or even destroyed"
There had been a lack of scrutiny in the highways department, with dysfunctional management, "no coherent business plan" and "dubious" contract deals
There had been issues in property management that had led to "a continued failure to correctly value land and assets", meaning taxpayers had "frequently lost out"
There was a "fundamental failure... to understand and appreciate the basic standards governing those in public service" and "no established way to hold those falling below those acceptable standards to account"
"Given the gravity of the inspection findings, I must consider what would happen if the council fails to deliver the necessary changes at the necessary speed," he said.
Mr Jenrick is proposing to appoint commissioners to run some aspects at the city council for a minimum of three years.
He added it was only the fifth time a "statutory intervention" had happened, as the move was regarded as a "last resort".
"I want to underline the report is not a verdict on all the staff working at Liverpool City Council - in fact, [it] commends the hard work and dedication of many," Mr Jenrick said.
Shadow local government secretary Steve Reed said the Labour party accepted the report "in full" and would hold a review into what he called "severe institutional weaknesses".
He welcomed Mr Jenrick's "measured and appropriate approach" to the council's problems and said he wanted "to reassure people in Liverpool that this does not mean government ministers are coming in to run their city directly".
"This is not, as some would put it, a Tory takeover," he added.
By Claire Hamilton, BBC Merseyside political reporter
The bitter fallout from Robert Jenrick's announcement is only just beginning. From those who see this as a power grab in Labour's reddest city by a party which hasn't won an election at any level here in decades, to those furious that the behaviour described in the report may have been allowed to fester, there's a lot of anger, uncertainty and sadness.
It's rare for a government to take action in this way. It's unlikely residents will notice any difference as they go about their daily lives - the bins will still get emptied, the pot holes will still get filled in (although not as quickly as some would like).
But behind the scenes, one of the key stipulations is that the elected mayor and council might be unable to spend cash on property transactions without the formal consent of the commissioner, which could have significant ramifications.
Another dramatic change is also to come: the proposed shrinking of the council chamber from 90 to just 30 elected councillors, who would all face elections at the same time.
In a statement, a Liverpool City Council spokesman said the authority took the report's findings into its highways, regeneration and property management functions "extremely seriously" and was committed to addressing "all the concerns raised".
He added that the report made clear that since the arrival of chief executive Tony Reeves in 2018, the council had "already taken steps to address the issues".
Mr Reed told the BBC the public would be "rightly shocked" about the report.
He said Mr Jenrick made it clear that the "vast majority" of the council's politicians and staff were "honest hard-working, dedicated public servants".
He added that he was "determined to make sure the council continues to run its own business," adding: "We do not want this to define the council or the city."
Acting mayor Wendy Simon said the report was "deeply unsettling" and she was "truly shocked" by the contents.
But she was "really pleased" at the level of commissioners coming in and "that they are coming in at an advisory manner".
She said it was important to "take collective responsibility" and for all councillors, regardless of political party, come together.
"We know it is a long road ahead to build that trust."
Mr Anderson said: "Under my leadership of eleven years as leader and as the mayor of Liverpool, our city has been transformed... into a northern powerhouse.
"Today's headlines do not reflect the dramatic success that we have generated. I want to digest fully today's report before commenting on specific details."
Councillor Richard Kemp, leader of the Liberal Democrat opposition group at the council, said the inspection had "exposed grotesque practices".
Councillor Tom Crone, leader of the council's Green Party group, said the city's Labour leaders should "resign as one".
"Any administration with even an ounce of shame would resign immediately and allow the city to start afresh," he added.
Conservative mayoral candidate Katie Burgess said it was "disappointing that Labour mismanagement has seen the government have to take action to protect the people of Liverpool".
Independent mayoral candidate Stephen Yip said the findings painted an "appalling picture" but applauded the "courageous and honest" council staff who provided evidence to inspectors.
He added he was grateful there was no "Whitehall takeover".
Trade Union and Socialist Coalition candidate Roger Bannister said while he had "great concerns", he was "opposed to the imposition of unelected commissioners taking power away from democratically elected representatives".
Liberal Party candidate Steve Radford told the Local Democracy Reporting Service there were "no great shocks" in the report and he "did not need a government inspector to tell me that intimidation has been going on for decades".
Inspectors were sent in by the local government secretary following allegations of fraud, bribery, corruption, misconduct in public office and witness intimidation at the council.
All five men who were arrested deny any wrongdoing and have not been charged with any offence.
Merseyside Police said the men were no longer on bail, but remained under investigation.
Mr Jenrick reiterated elections would still go ahead in Liverpool in May, with the following candidates for mayor announced so far:
Roger Bannister (TUSC)
Katie Burgess (Conservative)
Tom Crone (Green)
Richard Kemp (Liberal Democrat)
Steve Radford (Liberal Party)
Stephen Yip (Independent)
The Labour party is due to announce its candidate on 29 March.
Related Internet Links
The BBC is not responsible for the content of external sites.