Liverpool Banksy rat mural moved to Netherlands auction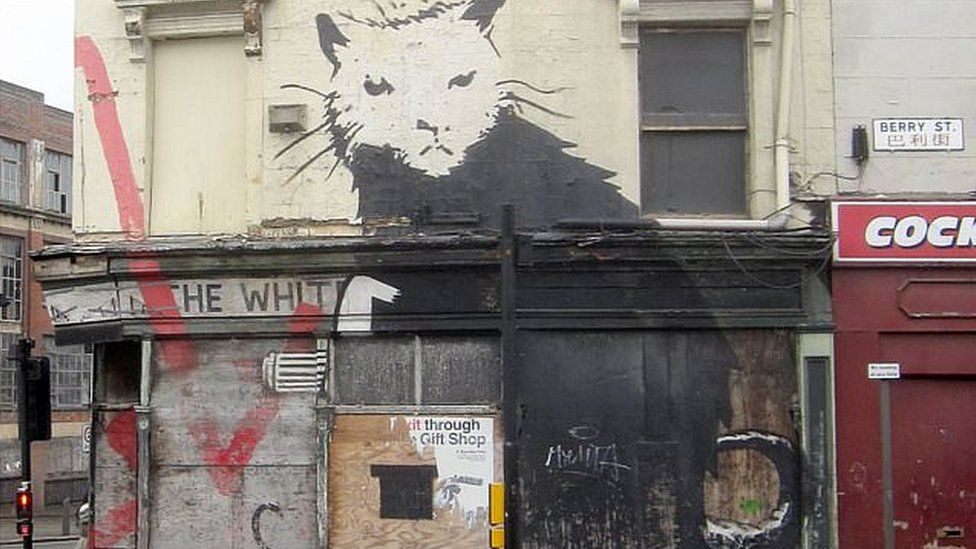 A mural of a rat created by Banksy is being hauled from the UK to the Netherlands to be sold at auction.
The distinctive black and white rodent was daubed on a wall at the former Whitehouse pub on the corner of Berry Street in Liverpool in 2004.
The piece, thought to be one of Banksy's largest designs, was taken down in 2011 in efforts to preserve it.
Auction house director Richard Hessink said the piece was on track to be delivered next week.
In 2011, Liverpool-based Ascot Property Group acquired the Grade II-listed pub building and was closely involved in removing the mural in 48 pieces.
Hessink's auction house said the mural eventually sold for £114,000 in another sale.
Controversy has surrounded the treatment of many of Banksy's works, which are mostly in public spaces.
Attempts to move them from public view and into private collections have been criticised by many, including the artist himself.
The rat's exact recent whereabouts has remained mostly unknown, apart from a brief appearance in London in 2018.
Hessink's has remained tight-lipped about the precise logistics of moving the piece but released a photograph showing it being lifted by crane onto a flatbed lorry.
Mr Hessink said: "We would love to see it end up back in the public domain in Liverpool where Banksy made it. Many of his early works have already been lost."