Lancastria: Service for Britain's worst maritime disaster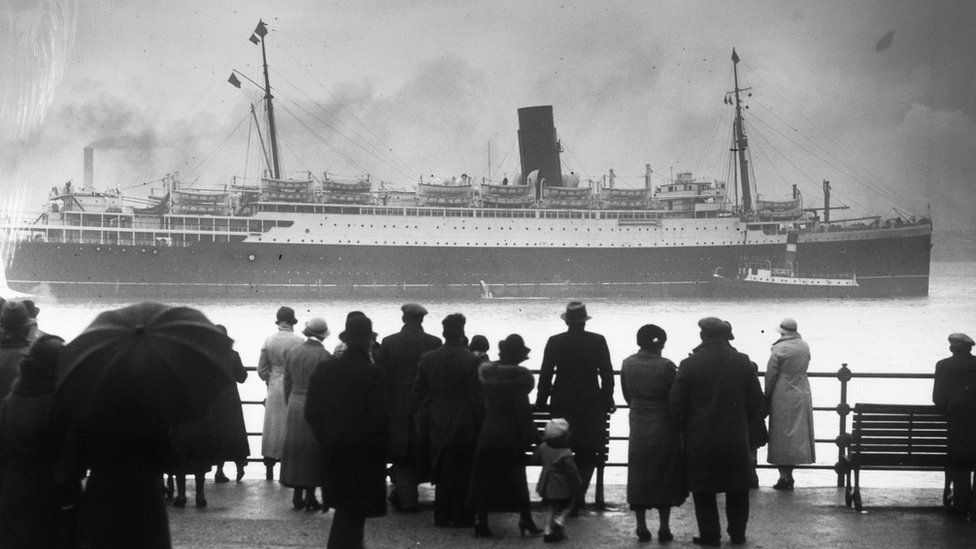 Commemorations to mark Britain's worst maritime disaster - the sinking of the Lancastria - have been held.
Prime Minister Winston Churchill imposed a media blackout, fearing the disaster's impact on morale during World War Two.
Daniel Foster, a descendant of one of the survivors, said: "It now falls upon the families to carry on the story."
An evensong service has been held at Our Lady and Saint Nicholas, the Parish Church of Liverpool, on Sunday evening after being postponed due to the coronavirus lockdown.
A Hurricane was flown over the city earlier as part of the commemorations.
Originally launched as a transatlantic passenger liner in 1922, the Glasgow-built ship was requisitioned as a troopship by the British government in March 1940 - seven months after the start of World War Two.
Following the German invasion of France in May 1940, HMT Lancastria was sent from Liverpool to help in the evacuation of British and French troops.
On 17 June, troops and civilians embarked on the ship, anchored near the French port of St Nazaire.
HMT Lancastria had been designed to carry 2,200 passengers but more than 5,000 people were onboard, with some estimating there may have been a maximum of 9,000 people.
At about 15:45 GMT, a German fighter plane flew overhead and dropped four bombs on the ship.
She sank in just over 20 minutes, resulting in the death of more than 4,000 men, women and children.
Fewer than 2,500 people survived.
The sinking was the largest single loss of life for British forces in World War Two.
"Those who did survive - when they came home - were reluctant to talk about what they were doing, what happened that day."
Coinciding with Nazi occupation of France and fears of a similar invasion in the UK, Churchill issued a 'D'-Notice, preventing news of the disaster from being reported.
The government feared its effect on British morale amid one of the nation's darkest periods.
American newspapers broke the story at the end of July - five weeks after the disaster - with the British media eventually reporting on the sinking.
Often described as the "forgotten tragedy" of World War Two, the suppression of information led survivors and their families to feel aggrieved.
Many of the ship's crew, including the captain, were from Merseyside, where a plaque marking the disaster was unveiled at Liverpool's Pier Head in 2013.
Paul Foster, whose grandfather Patrick survived, said: "We were determined that the city of Liverpool would remember the Lancastria.
"Although the plaque is there, it's not very well-known."
Related Internet Links
The BBC is not responsible for the content of external sites.