Neston sugar water murder: Wife jailed for killing husband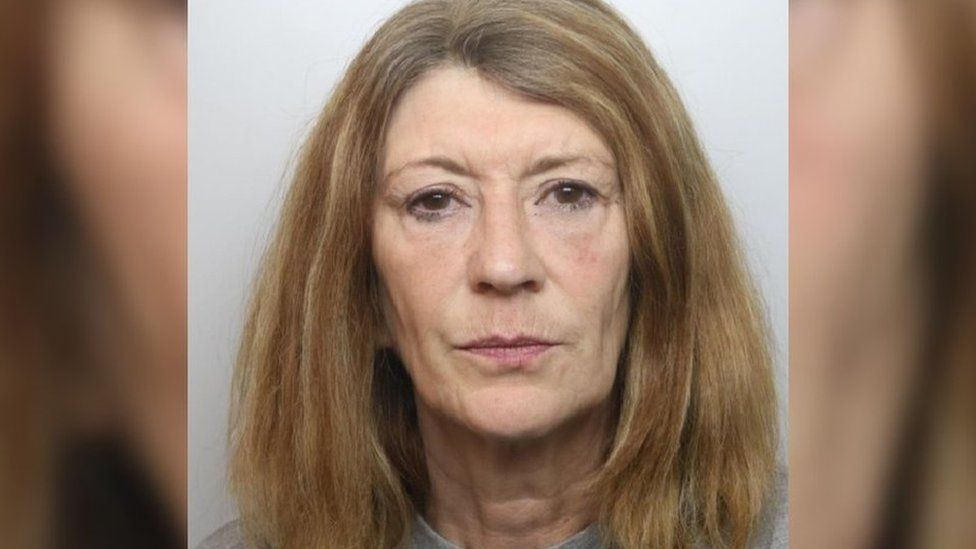 A woman who poured a mix of boiling water and sugar over her husband leaving the skin on his hand "peeling off" has been jailed for his murder.
Corinna Smith, 59, attacked 81-year-old Michael Baines while he was in bed at their home in Highfield Road in Neston, Cheshire, on 14 July last year.
He suffered extensive burns and died five weeks later in hospital.
She was found guilty after a trial at Chester Crown Court and jailed for life with a minimum of 12 years.
The day before the attack took place, Smith was described as angry and very upset at a rumour circulating about her husband that she believed to be true, police said.
On the day of the incident she returned home and filled a bucket from her garden with boiling water and mixed it with 3kg of sugar.
As her husband of 38 years lay asleep in bed she poured the contents over his arms and torso and then left the property.
A neighbour contacted police and the ambulance service after she told him: "I've hurt him really bad, I think I've killed him."
Police found Mr Baines "in excruciating pain and whimpering in bed with the skin on his right arm and hand peeling off".
He was taken to hospital and remained in the burns unit for two weeks in a stable condition before he deteriorated and passed away.
Det Ch Insp Paul Hughes said Smith "killed her husband Michael in such a painful and cruel way".
"To throw boiling water over someone when they are asleep is absolutely horrific. To also mix three bags of sugar with the water showed the determination she had to cause serious harm," he said.
"It left Michael in agony and rather than call the emergency services she wasted time by going to a house nine doors away to tell a neighbour, who she wasn't close to, what she had done."
Related Internet Links
The BBC is not responsible for the content of external sites.