Wirral beach clean: Lottery winners team up to tackle litter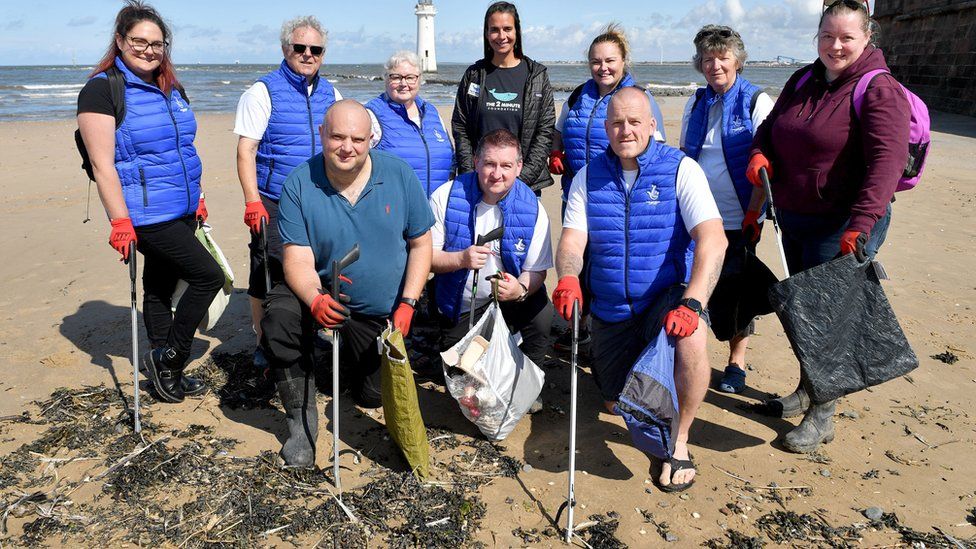 A team of millionaire lottery winners have carried out a beach clean-up to raise awareness of litter on UK shores.
Nine National Lottery winners picked up discarded plastic items on Wirral beach in Merseyside on Monday.
The charity 2 Minute Foundation said the problem had increased due to people choosing to holiday in the UK instead of abroad due to the Covid-19 pandemic.
Lottery winner Deborah Mather, 63, said she was "shocked" to see there was an "awful lot" of rubbish washed ashore.
"There are some things that have been left on the beach that you would not dream of," said Ms Mather, who lives in Chorley in Lancashire.
After claiming £5.1m in 2005, Ms Mather said she and her fellow lottery winners did their best to give something back.
Ben Woods, 40, from Wirral, who scooped just under £2.5m in 2004, said he had been cleaning up objects including felt-tip pen lids and bottle tops.
"It is something close to my heart as a father, to ensure our beaches are kept clean so everyone can enjoy them to their full potential.
The 2 Minute Foundation, which received funding from the National Lottery in 2018 and 2019, encourages people to complete simple acts to clean up the planet.
A spokeswoman for the charity said: "The climate is changing so rapidly because we are so reliant on plastics and plastic production.
"People are seeing it with their own eyes and they want to do something about it, so it is now time that we can all take action," she added.
Related Internet Links
The BBC is not responsible for the content of external sites.