Universal Credit: Removing £20 uplift 'has made every day a worry'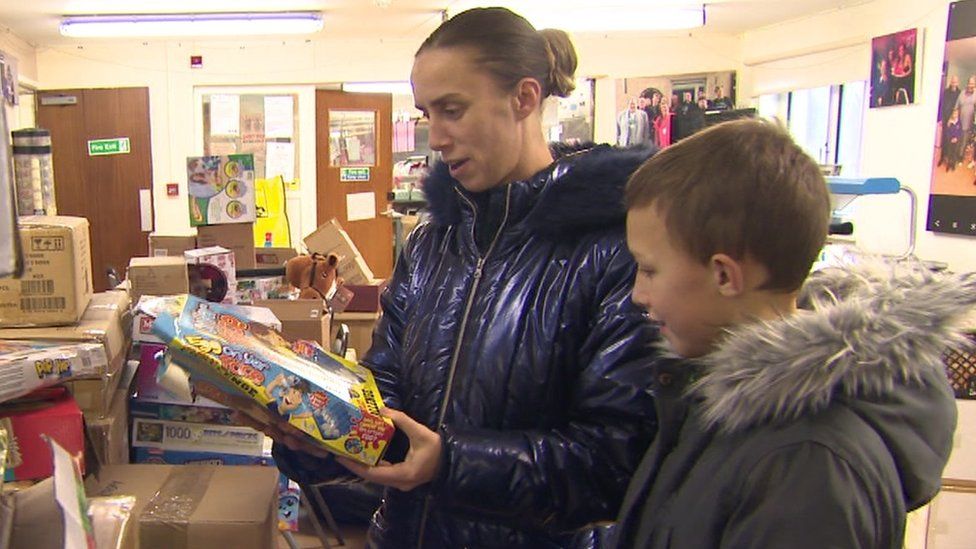 It is two months since Malesha and millions of other Universal Credit claimants saw a £20 uplift removed from their benefits and she is finding the drop in funds hard to cope with.
"Every single day is a worry," the mother-of-two said.
"From the minute I wake up [and] put them in school to the minute I pick them up and put them in bed, it's just a big worry.
"Where am I getting this from, where am I getting that from?"
The single mum, who is caring for her own mother while also trying to find work, said the uplift was "a really big help and you didn't know how much of a difference [it made] until it went".
"It's made me struggle a lot more," she said.
"That £20 was like a £10 top up on my electricity and gas and now that's gone.
"I get £516 a month for me and my two kids, so it's really, really hard for me."
She added that it was "going to be a horrible Christmas this year" and she had not yet been able to buy her children any presents.
"I'm quite blessed because they're like 'if you can't afford it Mum, that's fine'.
"But it's not nice as a mum. You want to give your kids the world [but] there's nothing I can really do about that."
Malesha, along with many in her neighbourhood, uses the Liverpool Six Community Association centre, a hub in Everton which houses a food bank, baby bank and youth club and aims to serve those who are struggling to make ends meet.
About 70% of people residing around the centre live in poverty, a number which has risen from 50% since the Covid-19 pandemic began.
The centre offers a range of services, including free school uniforms and a food union shop where prices are much lower than in supermarkets.
Chief executive Gerard Woodhouse said before the uplift was cut, about 70 people were using the food bank on a weekly basis, but that was now the daily number.
"It's gone through the roof. We're getting 50 to 100 referrals a day.
"Demand is unbelievable. The phone never stops.
"There's so many families out there - it's not hundreds, it's thousands that need help.
"Nothing's coming down in price. And on top of that... the families have lost £20.
"It's making our job a lot harder."
Martin uses the centre's shop and baby bank.
The father-of-five is trying to set up his own upcycling business but said that had become difficult as he was struggling to find the money to buy tools.
"It's not just with losing the top-up, it's the power going up. Prices in the supermarket have gone up too.
"It all has a massive effect and obviously we do struggle, so if it wasn't for places like the L6, who tie in with the school... I just don't know how we'd do it.
"Between the two of them, they really are a lifeline."
He said since the uplift ended, he had "cut down on everything".
"It's left us short on the heating, electricity, we can't treat the kids.
"If there's ever any sort of emergency, there's not a lot you can do.
"You do get angry, especially when the kids are asking for stuff and you have to say no all the time.
"That's the worst times."
He said those who made the decision to remove the uplift have no idea "what it's like to be living a normal life".
"They've never experienced living like we do.
"If they had a little taste of it, their views would change."
The L6 centre's chief executive agrees that those at the top should come and see what life is like in the area.
He has even invited Boris Johnson and the work and pensions secretary to come and "spend a day with us, so they can see what is happening".
He said he got a letter back from the prime minister "saying 'thanks for all you do but I'm too busy'", while the secretary of state "hasn't even had the courtesy to write back".
"We're not going to put an act on. I want them to see how bad this is affecting people," he said.
"We've got one family that, on the night we don't have a youth club, the kids go to bed at six o'clock so they don't have to put the heating on.
"That's the reality what we're living in today and it's so sad."
A spokeswoman for the Department for Work and Pensions said the uplift was "always temporary and it's right that we now focus on our successful Plan for Jobs, which has already ensured that 5,000 fewer people are relying on benefits in Liverpool this year".
"We are helping people with the cost of living by raising the National Living Wage, giving nearly 2 million families an extra £1,000 a year on average through Universal Credit changes and helping with childcare costs and fuel bills," she said.
"For the most vulnerable, including those who can't work, we also launched a £500m Household Support Fund to help with the cost of everyday essentials."
Mr Woodhouse said he was not so sure the government's initiatives were working.
"When we do our numbers each month, 72% of people who come for help are working, 8% are pensioners and the rest [are] on benefits," he said.
"I can honestly see children dying through this, families breaking up.
"I really wish I could say that it's going to get better but it's not.
"And it's heartbreaking."
Related Internet Links
The BBC is not responsible for the content of external sites.