Liverpool Airport future expansion plans in doubt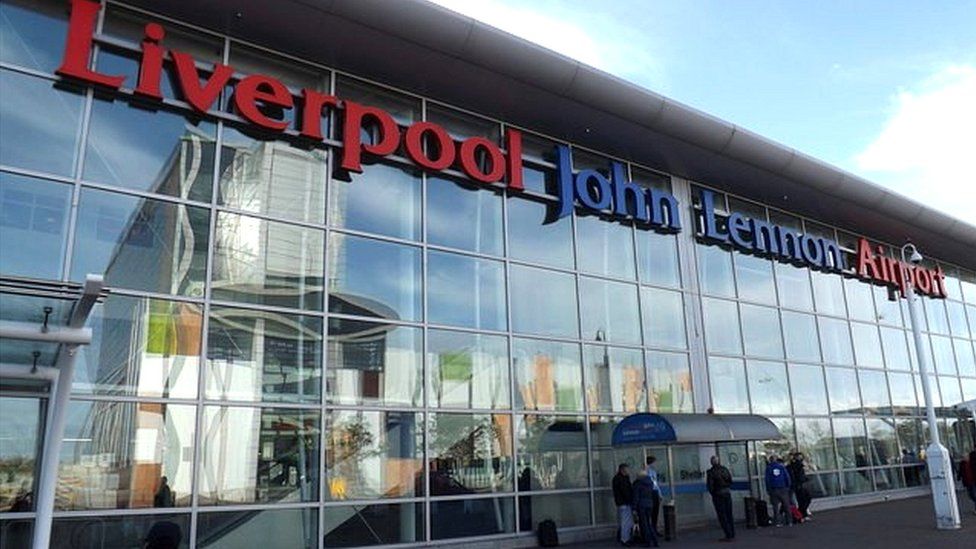 Liverpool Airport's expansion plans have been thrown in doubt after city councillors agreed to review policies relating to any future extensions.
Councillors from all parties expressed concerns over any proposals to extend Liverpool John Lennon Airport (LJLA).
At a full council meeting, they agreed to consider selling its 10% stake in the airport since it was "incompatible" with fighting climate change.
LJLA declined to comment on the meeting.
Councillor Lena Simic, who chairs the climate change and environment select committee, told the meeting: "Let's be clear, nobody wants airport expansion."
She added that Liverpool should "lead the way" when it comes to tackling climate change.
The world is very different from when the council and airport published their original plans, she added.
Labour councillor Alan Gibbons - who also expressed his "total" opposition to expansion - said those rallying against the plans had "done a great service".
He said the local authority should work with activists campaigning against airport expansion and "use them as a resource".
Green councillor Anna Key put forward a motion asking the city council to sell its stake in the Speke-based airport.
She told the meeting: "You cannot move to a net-zero economy by 2030 and expand the airport - that cannot happen."
But Labour councillor Hetty Wood proposed the cabinet undertake an "evidence-based review of all council policies and plans relating to green space and the environment" alongside a report "detailing the process for, and consequences of, removing all financial support from LJLA".
The Riverside ward councillor said making any financial decisions without a report would be "irresponsible".
Councillors agreed to her amended motion unanimously, with a report to be brought before the next full council meeting.
It also voted to review the local plan which would see the removal of the Oglet Shore from the green belt.
It came after hundreds of people gathered outside the Town Hall before the meeting to protest against such a move.
By Claire Hamilton, BBC Radio Merseyside political reporter
The Oglet Shore runs along near the airport and next to the famous Tudor splendour of Speke Hall.
It was reportedly a favourite day out for the young Paul McCartney as his family lived quite nearby.
Families protesting outside the town hall said it had been invaluable to them during lockdown. They said it provided a genuinely rural getaway from city life.
It is a Site of Special Scientific Interest and regarded as a site of international importance for the wetland birds that live there.
The fields that lie between the airport runway and the shore are designated greenbelt.
They would be removed from this designation under the local plan.
The Save Oglet Shore group says any airport expansion plans would see "this beautiful area, with its woods, ponds and streams, home to bats, owls and many Red list, endangered farmland birds disappear under concrete".
The airport masterplan ear marked it for new hangers, maintenance services, cargo facilities and warehouses by 2050.
Related Internet Links
The BBC is not responsible for the content of external sites.