Norfolk MPs lobby Treasury for investment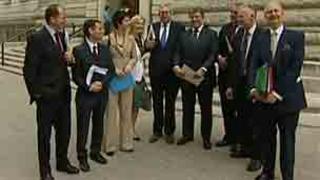 Nine MPs from Norfolk have been at the Treasury to lobby for more investment to boost economic growth in the county.
Seven Conservatives and two LibDems told officials improvements to road and rail links were urgently needed.
They are hoping Norfolk will benefit from a new regional growth fund set up by the government.
Norwich South LibDem MP Simon Wright arranged a meeting with the Chief Secretary to the Treasury, Danny Alexander to make a case for more cash.
"We want more investment in infrastructure in Norfolk to make us better connected," he said.
"That means better communication through improved internet broadband and investment in transport links.
"The Treasury wants the whole economy to be successful and with support Norfolk can be part of it."
He added that the government needed reminding that the "county has been underfunded for decades."