Funding to improve river valley in King's Lynn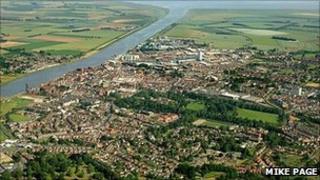 A river valley in Norfolk is to be transformed into an amenity for the local community following £500,000 in European funding.
The money will pay for a three-year project to improve the Gaywood River Valley, to the east of King's Lynn.
West Norfolk council said enhancing the green open space would bring economic benefits to the area and preserve important wildlife habitats.
It is one of 15 European projects to improve urban fringe areas.
Brian Long, chairman of the Gaywood Valley Project Board and county councillor and deputy leader of West Norfolk Council, said: "This pioneering project will provide an outstanding natural environmental resource not only for the residents of King's Lynn but also for visitors to the area.
"It will bring the opportunity for people to improve their well-being by being able to participate in a huge range of outdoor activities right on their doorstep."
Once complete, the Gaywood River Valley will be suitable for leisure and recreation and for educational purposes, Norfolk County Council said.