Cromer Hospital construction to begin in autumn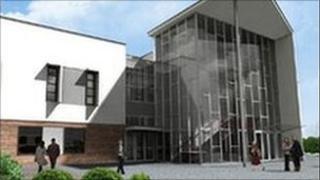 Construction of a new £15m hospital in Norfolk will begin in September.
Cromer and District Hospital will replace the original Mill Road hospital which first opened in 1932.
It will provide day treatment, out-patient care, renal dialysis and extended diagnostic services.
The hospital is due to be completed by autumn 2012. The project has been discussed for more than 10 years and has been funded by two legacies.
The construction work will be phased to ensure that clinical services can continue to run on a near normal basis, Norfolk and Norwich University Hospital NHS Trust said.
The hospital will see around 11,000 more patients a year than the current site, it added.
Room for expansion
Its minor injuries unit will be named after Sagle Bernstein and the procedure unit on the first floor of the new hospital will be named after her sister Muriel Thoms.
Mrs Bernstein left a £12m bequest in 2000, as a thank you to staff who cared for Ms Thoms.
Phyllis Cox, who had been a patient in the hospital in the 1950s, bequeathed £1.4m four years later.
The old Davison and Barclay ward areas of the current hospital will be retained and refurbished for use as a renal dialysis unit with room for expansion.
Trust chairman David Prior said: "We have been determined to deliver this long-awaited new hospital for people in north Norfolk and we are delighted to announce work will start in September.
"This new hospital has been made possible by two local legacies and we are indebted to them for their generosity."