Essential repairs are started on seawall in Norfolk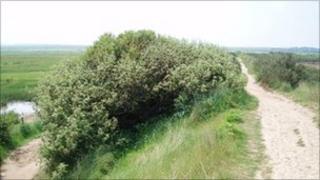 Essential repairs have started to repair erosion damage to a seawall in Norfolk.
The Environment Agency work on the seawall at Burnham Overy Staithe is vital to maintain flood defences.
The bank will be cleared of vegetation, the seawall repaired and reformed and a crushed stone footpath will be created along the crest of the bank.
The first month of the 18-week-long venture will be devoted to re-homing any reptiles living in the wall.
The Environment Agency said there was an alternative route for pedestrians next to the bank, along the edge of the nature reserve.
The Burnham Overy Wall is one of a network of defences that work together to protect properties in Wells, Holkham and Burnham Overy from flooding, along with 800 hectares of agricultural land.
Nick Hesp, operations delivery manager for the Environment Agency, said: "We want to make sure that sea defences offer the best standard of flood protection to people and their property.
"By carrying out repairs now, the structural integrity of the wall will be ensured for many years to come."
The work is being done now so over-wintering birds are not disturbed between November and March, or any breeding birds from April to July.