Boxer's belt theft at testimonial in Norwich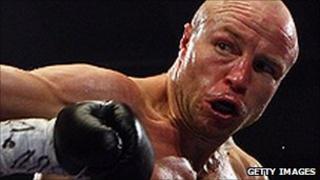 A Norwich boxer's European Title belt has been stolen during his celebration dinner at a hotel in Norfolk.
Boxer Jon Thaxton was attending his testimonial event at the Holiday Inn at Norwich Airport when the belt was stolen.
Mr Thaxton had been joined by stars from the football and boxing world, including former World Champion Ricky Hatton.
Mr Thaxton urged anyone with information to contact the police.
"I have had a great career. It took me 16 years to earn that belt and then at my testimonial someone steals it," he told the BBC.
"I am gutted and disappointed. I want it back. I need it back. I worked very hard for it."
Police are investigating the theft and are expected to analyse CCTV from the hotel as part of the inquiry.